Country's first seaplane operator Maritime Energy Heli Air Services Pvt Ltd (MEHAIR) successfully carried out the trial run for its first intra-city service on Wednesday.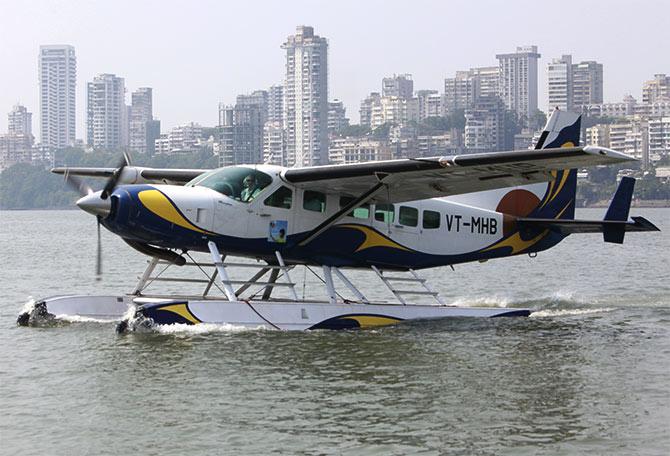 Image: MEHAIR conducted t

rial landings for the proposed seaplane services between Juhu and Girgaum Chowpatty.

Photograph: Sahil Salvi
The city-based firm already operates daily seaplane services from Mumbai's Juhu aerodrome to Lonavala and Pawna dam in association with Maharashtra Tourism Development Corporation.
Mehair had launched its maiden seaplane service to Lonavala from Mumbai in late August this year.
Trial landings for the proposed seaplane services between Juhu and Girgaum Chowpatty were successfully conducted today and Mehair expects the flight between the two most popular beaches of the city shortly, a release said.
"With the proposed commercial launch of the service, Mumbai will become one of the few cities in the world that have a seaplane service originating in the heart of the business district. We are confident that the public at large will see the value of the service and take full advantage of it," Mehair co-founder and director Siddharth Verma said.
Mehair, along with MTDC, has been working on the project for nearly last two years and has already obtained regulatory approvals from all agencies concerned including the Ministry of Defence, Coast Guard, Indian Navy, Mumbai Police, Port Trust, environment department and the Airports Authority of India among others, the release said.
Besides, the company has also successfully conducted trial landings for its another proposed seaplane flight to Mula dam (Meherabad/Shirdi) and its commercial operations are likely to commence next month, the release said.
As part of trial landings, a Cessna 208A amphibian aircraft took off from Juhu Aerodrome in Mumbai and successful splashing touch-down in the waters off Girgaum chowpatty exactly seven minutes later, the release said.
Once the services are launched, the travel time between the two destinations will be reduced to less than 10 minutes from 30 minutes now.
A seaplane offers commuters connectivity to areas even beyond which are remote but have suitable water bodies which can accommodate seaplane operations.
© Copyright 2021 PTI. All rights reserved. Republication or redistribution of PTI content, including by framing or similar means, is expressly prohibited without the prior written consent.