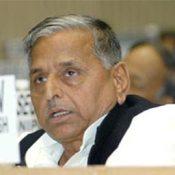 Raising a new demand on the women's bill, Samajwadi Party on Monday sought 50 per cent quota to women in educational institutes as well as jobs.
The demand was made by Mulayam Singh Yadav, who has already called for "reservation within reservation" for Muslim women and backward classes in the Women's Reservation Bill.
He said political parties should be asked to give reservation to women in distribution of election tickets and representation should be given to those from backward classes and also Muslims and Dalits.
"During the all-party meeting, I made my stand clear that till the time women do not get educated, they cannot move ahead. Therefore, at the first place, women should get 50 per cent reservation in admission to Indian Institutes of Management (IIMs), Indian Institutes of Technology (IITs), All India Institute of Medical Sciences (AIIMS) and all medical colleges and government and private jobs.
"Women can't progress by merely becoming MPs and MLAs," Yadav said, adding SP has been saying that parties should be made to reserve seats for women.
"Those who don't, should face disqualification," he said. The SP chief was referring to an Election Commission suggestion that providing reservation to women be made mandatory for political parties.
"Majority of the memoranda received by the committee rejected the formula suggested by the then CEC M S Gill on the ground that it might lead to political parties giving seats to women, which they perceive are not winning seats, thereby negating actual representation of women in elected bodies," the report of the Parliamentary Standing Committee which went into the quota for women issue had said.
Referring to the recent interim order of the Supreme Court upholding the validity of four per cent reservation provided to backward members of Muslim community in the state, Yadav said the judgment has cleared the way for providing reservation to Muslim women in Lok Sabha and state assemblies.