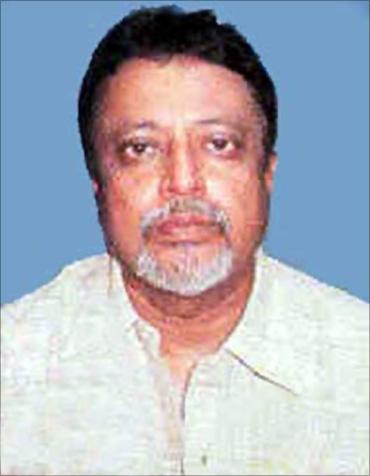 Trinamool Congress General Secretary and Minister of State for Shipping, Mukul Roy will be the new Railway Minister.
Trinamool Congress supremo Mamata Banerjee, set to take over as West Bengal Chief Minister on Friday, resigned as Railway Minister on Thursday.


Railway sources said Banerjee sent her resignation to Prime Minister Manmohan Singh.


Banerjee took over as Railway Minister of UPA-II government in May, 2009. She had also held the ministry for less than two years in the NDA government.

Mamta Banerjee, who engineered the landslide victory of the Trinamool Congress-Congress combine, will be sworn in as West Bengal's first woman chief minister on Friday.


Besides Roy, the name of Dinesh Trivedi, minister of state for health and family welfare, was also doing the rounds for the job.


Mukul Roy, a trusted lieutenant of Banerjee was elected to Rajya Sabha in April 2006. From August 2006 to May 2009,
he was Member, Committee on Urban Development Member, Consultative Committee for the Ministry of Home Affairs.
Mukul Roy, as the Minister of State for Railways, will face the daunting task of meeting the loading target of 993 million tonnes in the current fiscal besides laying 1300 km new lines.
"The bidding documents for the proposed diesel locomotive factory in Marhora and electric locomotive factory in Madhepura are to be finalised on a priority basis as these PPP projects are crucial for the growth of railways," said a senior rail ministry official.


The loan agreement with the World Bank for the Eastern Corridor of the ambitious Dedicated Freight Corridor project is yet to be finalised.


"The loan agreement has to be expedited to complete the project on schedule," said the official. Since the chairman Railway Board Vivek Sahai, who is also holds the additional post of Member Traffic, is retiring next month, these two important posts also need to be filled up in an expeditious manner.