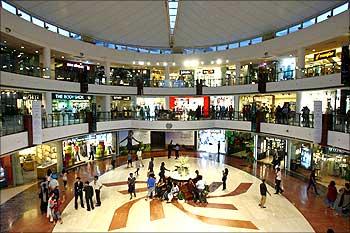 'Leonardo Na Thepla,' a banner urging customers to cook the popular Gujarati dish, thepla, in Leonardo olive oil, stands out at Ahmedabad's Reliance Market, the group's cash-&-carry store.

"Join the change, go Indiano," it adds.

The message is to make the local stuff healthier and unsurprisingly, there's been a jump in demand for imported olive oil.

From a single cash-&-carry store, monthly olive oil sale is believed to have touched Rs 16-20 lakh (Rs 1.6-2 million), from half that amount till recently.

However, every cash-and-carry chain claims 85-90 per cent of the products it sells is local.

Among imported items, olive oil tops across stores, followed by confectionery items, preserves, salad dressing, vinegar and even exotic fruit and vegetables.

Olive oil and exotic fruit & vegetables apart, cash-and-carry chains are in the middle of a regional revolution.

Local brands are increasingly going national; at times even international.

Reliance Market stocks 15-20 per cent regional products and Bharti-Walmart's Best Price Modern Wholesale 30-40 per cent.

Then, there are private labels of the big chains. Reliance has 35 private labels in its wholesale outlets and Walmart & Metro three each.

So, at Reliance Market, there's Live brand of bread, pizza, pastry and spices.

While Waghbakri is a prominent regional brand in Gujarat, giving it competition is Aarambh, another Reliance label.

Not far on the shelves are bottles of Perrier mineral water, an international brand.

Also, a Chinese car vacuum cleaner sells for Rs 99 against a retailer MRP of Rs 990 and Chinese rechargeable mosquito racquet for Rs 199 against the MRP of Rs 299.

Exotic fresh here is limited to mushroom, red tomatoes, dragon fruit and asparagus, as shelf life is an issue. Onion was selling at Rs 45 a week ago with no retailer margin.

At Best Price (Walmart), a confectionery brand has spread from Punjab to Uttar Pradesh and central India.

Another staple player has branched out from Tamil Nadu to across the country.

Private labels such as Member's Mark, Right Buy and Baker's & Chef are growing at Best Price, executives say.

Private labels currently constitute seven-eight per cent of the company's sales by value. Because of lower advertising cost and expected margin, private labels are cheaper than brands.

Not a surprise then that Best Price Bhopal has lined up a series of local brands: Trust sugar; Swach grams, and the list goes on. Gwalior gajak (a roasted bread of sugar syrup and peanuts) here goes out all over the country.

Same for kesaria thandai (a dessert) from a brand called Guruji.

A store manager says local flavour and the lower price make many of these products popular.

A tin of Madhuri oil is tagged at Rs 1,288 against the MRP of Rs 2,050, offering a margin of Rs 761.

Onions were being sold for Rs 59 a kg at the Bhopal store towards the end of November.

Another popular variety at these modern wholesale stores is the smaller packs of local spices.

A retailer buys a 40-sache pack for Rs 38 and sells them for Rs 5 each in groceries, making Rs 4
on each sache.
A new lot of blankets has just reached a cash-and-carry store: Chinar Forge from Jalandhar at Rs 799 against an MRP of Rs 1,899.
Even traditional wholesalers in Punjab are purchasing these, among other things, who stand a chance to make a margin of Rs 200 on each.
The combination of international and local is intriguing. For instance, the American chain displays its own private label bean bags but they are procured from a Bengaluru-based company called Setmar.
Then there's Members Mark (Walmart) corduroy jacket, manufactured by a Ghaziabad company.
Exotic fruit and vegetables at Walmart, Metro and Carrefour chains are sourced from anywhere from the US to China and South Africa.
Apple Granny Smith, Apple Washington and Royal Gaba apples from the US, Fuji and Ya Peer from China, orange from South Africa.
Then there's Chinese cabbage and Thai dragon fruit.
At Metro stores, do-it-yourself is a hot section, with pliers, storage, gardening tools, etc, mostly imported.
It also offers a wide range of international products through the German chain's private label but manufactured in India.
So you have ARO Assam tea, mango pickle of the same brand made in Delhi's Gole Market, snacks from Jaipur, honey from Roorkee and mixed fruit jam from Chennai.
Another of Metro's brand, Fine Food, is also stocked well: corn flakes from Bhiwadi Spice from Ahmedabad and Coimbatore, sugar from Lawrence Road of Delhi.
If so much on offer is local at the international cash-and-carry stores, why is there so much of a hue and cry over the multi-brand retail rules, which have permitted up to 51 per cent foreign direct investment but with the condition of mandatory 30 per cent sourcing from small Indian companies?
To that, experts argue Indian is one thing, ensuring small businesses don't grow big year after year is another.
Even as the cash-and-carry business, generating direct jobs for 200-400 persons a store in India and 60-100 indirect jobs, is not much of a hot potato like multi-brand retail, political opposition has still not left it untouched.
When the Jaipur cash-and-carry store of Carrefour was launched two years ago, there was much disruption by Opposition parties.
So now, international giants are waiting for results to the five Assembly polls and looking out for the general elections next year to take a call.
CARRY NO WORRY
• Reliance has 35 private labels; Bharti-Walmart's Best Price Modern Wholesale has three; Metro Cash and Carry three
• Around 90% of products sold in cash-and-carry stores are sourced from India, 10% imported
• Walmart sources more than $1 billion worth of products from India, and Metro Euro 65 million for global business
• A cash-and-carry store employs 200 to 250 directly, while 60 to 70 are hired indirectly for promotions
• A store typically has 45,000 to 50,000 members or buyers
• Resellers or retailers constitute over 50% of the store sales, institutions and offices 30 to 35% and hotels & restaurants 15-20% by revenue
• A flagship store of a major cash-and-carry chain could have revenue of as much as Rs 150- Rs 200 crore (Rs 1.5-2 billion) a year Sources: Industry estimates, companies