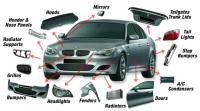 Motherson Sumi Systems, flagship company of the Samvardhana Motherson Group, announced an acquisition of 80 per cent stake in Peguform Group, makers of car bumpers and dashboards, for an undisclosed sum.
Headquartered in Germany, Peguform is the second largest supplier of door panels in its home market. This is the second acquisition abroad by Motherson Sumi within a little more than two years.
It is also the third foreign acquisition by an Indian auto component company in two months, signalling a clear shift in strategies and putting buy-outs back on the planning desk.
MSSL will buy the stake in partnership with Samvardhana Motherson Finance, through a special purpose vehicle from Austria's Cross Industries AG.
While MSSL will hold 51 per cent in the SPV, which will hold the 80 per cent stake in Peguform, SMFL will hold the balance of 49 per cent. Cross Industries will hold a 20 per cent direct stake in Peguform.
The deal size would be disclosed by September-October and is subject to regulatory approval. The acquisition in Peguform also gives Motherson direct holding of 50 per cent in Wethje Carbon Composite, part of Cross Industries.
The company's stock on the Bombay Stock Exchange closed 3.5 per cent lower at Rs. 230.95, after hitting a 52-week high of Rs. 256 in intra-day trading.
Peguform is the world's 11th largest supplier of door panels and has a strong presence in Europe, supplying to major brands such as Volkswagen, BMW, Porsche, PSA Peugeot Citroen, Renault-Nissan, Daimler and General Motors.
Global target


Samvardhana Motherson Group chairman and MSSL vice-chairman, V C Sehgal, said: "Currently, Motherson Sumi Systems doesn't have the capacity to meet the global
business demand. The product range of Peguform has strong synergies with the existing product range of SMG in plastic injection moulding, door panels, instrument panels and bumpers.
"This acquisition would provide new technologies and depth to the polymer product range of the group and will strengthen the position of the group as a global module supplier to automotive OEMs."
A majority of the revenue of MSSL is generated outside India, as many of its manufacturing facilities are based outside the country.
Of the Rs. 8,371 crore (Rs. 83.71 billion) generated last year, 59 per cent came from outside India. It has presence in 23 countries in addition to India, including the UAE, Sri Lanka, China, South Korea, Japan, Germany, the UK, Austria and Hungary.
Peguform is present across seven countries, with a total of 17 production sites. The company has registered 20 per cent year-on-year growth since 2009.
MSSL, through its division, has been in the business of plastic moulding, assemblies and module integration for more than a decade.
Acquisition of Peguform's business would expand MSSL's global footprint in terms of technical expertise in supplying components to luxury segment cars, which are now eyeing Indian markets.
Sehgal added: "We are looking at augmenting our capacity in countries like India, China and Brazil. This will help us to achieve our (turnover) target of $10 billion.
"With this acquisition, we would be able to cater to the component demands of premium auto brands that are keen to set up their manufacturing base in India."
Normally, the manufacturing cost of auto components is a third cheaper if made in the local country.
The long-term objective is also to leverage the technical expertise and aesthetics in manufacturing auto parts of popular mid-segment cars in India.