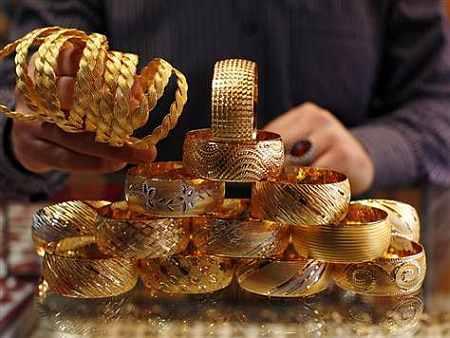 In Mumbai gold 99.9 purity traded at Rs 29,250 per 10 gram, while at Delhi it traded at Rs 29,150 per 10 gram.
After keeping shutters down for almost six weeks against the proposed 1 per cent excise duty on non-silver jewellery, a large section of jewellers and bullion traders across the country opened their shops on Tuesday.
While some jewellery shops and showrooms were seen resuming their regular transactions in National Capital and Mumbai, the others remained closed.
Jewellery showrooms in Tamil Nadu and Andhra Pradesh were also opened.
"Jewellers, bullion traders and artisans have reopened their establishments in Rajasthan after the government's assurance it would simplify implementation of excise duty", Subhash Mittal, President, Rajasthan Sarafa Sangh told PTI from Jaipur.
If the demands were not met, the jewellers in the state will resume the strike, he said.
Meanwhile, jewellers in Maharashtra have called off their strike temporarily, from April 14 to 24.
"We are meeting the Union Minister Piyush Goyal in Delhi today with our demands, which include paying additional 1 per cent additional tax on VAT instead of excise duty, no maintenance of extra register keeping details of each items, no additional tax on remake of old jewellery and no inspection of manufacturing and retail units.
"For this we have temporarily halted the strike in the state from April 14 to 24," Maharashtra Rajya Saraf Suvarnakar Federation President Fatechand Ranka told PTI.
Meanwhile, Chairman of Assocham's National Council on Gems and Jewellery Sankar Sen said the jewellers may call off strike in next few days following the government's assurance that Ashok Lahiri committee will consider all the demands.
The Centre has already constituted a panel under former chief economic advisor Ashok Lahiri to look into their demands.
The sub-committee, which has been asked to submit its report in 60 days, will look into issues related to the compliance procedure for the excise duty, including records to be maintained, forms to be filled, operating procedures and other relevant aspects.
The government, in the Budget for 2016-17, had proposed one per cent excise duty on jewellery without input credit or 12.5 per cent with input tax credit on jewellery excluding silver other than those studded with diamonds and precious stones.
Meanwhile, in Mumbai gold 99.9 purity traded at Rs 29,250 per 10 gram, while at Delhi it traded at Rs 29,150 per 10 gram.
At Kolkata it quoted at Rs 29,620 per 10 gram in opening trade.
At Chennai, the precious metal opened at Rs 29,630 per 10 gram.
The image is used for representational purpose only. Photograph: Murad Sezer/ Reuters