After three holidays this week, all public sector and many private banks would function full day on Saturday.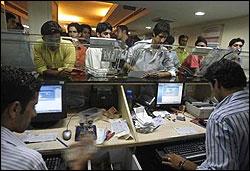 Banks usually are open for public dealings between 10 am and 1 pm on Saturdays. However, the finance ministry has asked all the public sector banks to function full day this Saturday, official sources said.
Country's largest bank State Bank of India has said that all its branches will remain open till 5 pm on Saturday.
"In order to facilitate transactions for our customers, it has been decided to keep all branches of our bank open for public transactions up to 5 pm on April 7, 2012," SBI said in a notice.
Many private sector lenders, including HDFC Bank and Karur Vysya Bank, have also decided to work full day this Saturday.
"On account of consecutive holidays on April 5 and 6, all branches of Karur Vysya Bank will remain open for public transactions like any other working full day on April 7 for the convenience of our customers," the bank said in a notice.
Banks were closed for public dealing on Monday. They again remained closed on April 5 & 6 on account of Mahavir Jayanti and Good Friday, respectively.
Image: People transactiing at a bank in Srinagar. Photograph: Arko Datta/Reuters