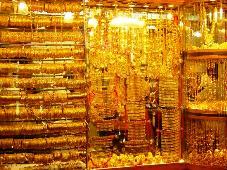 Gold and silver prices tumbled for a second day in a row on Monday, leading to panic selling by brokers as margins were triggered.

The contagion effect of the fall was seen in other commodities, natural gas and crude oil.

On the MCX, gold and silver prices were locked in the lower circuit. In Mumbai's Zaveri Bazaar, the yellow metal fell by Rs 1,330 (4.8 per cent) per 10g, whereas silver lost Rs 3,615 (7.1 per cent) to close at Rs 46,990 per kg.

In India, gold hit a 19-month low and silver hit a 26-month low.

The volume on MCX till 10 pm was at a record high of Rs 1,18,000 crore. Gold was at Rs 25,730 and silver at Rs 44,150 on the bourse at 10 pm.

"Gold has transformed into a sell-on-rise from a buy-on-dips market," said Sugandha Sachdeva, in-charge-metals, energy & currency research, Religare Broking.

Most commodities fell sharply due to panic selling by traders, she added. Margin and stop-loss-related selling triggered a panic in the market.

What hurt sentiment further was China's lower-than-expected economic growth data. China's National Bureau of Statistics said in Beijing on Monday the economy grew at 7.7 per cent in the March quarter, against 7.9 per cent in the December quarter.

Analysts were expecting eight per cent growth.

While markets fear that Cyprus might part with its 13.9-tonne gold reserves to repay debt, the major worry was if other troubled European nations would also resort to such selling.

This could lead to a crash in the market. Italy (2,452 tonnes), Spain (281.6 tonnes), Portugal (382 tonnes), Ireland (6 tonnes) and Greece (112 tonnes) hold substantial gold reserves.

In the Indian market, many MCX traders faced margin calls as stop-losses were triggered, leading to a further fall in these commodities'
prices.
Brent crude oil slipped to $100.8 a barrel (10pm IST). Copper trading on the London Metal Exchange closed at a 17-month low, at $7,189 a tonne, recovering from the day's low of $7,085.
Most other metals were also down.
The immediate future for gold might not be too bright as, according to forex market professionals, an estimated 400 tonnes of June gold futures were put on sale.
This is almost equal to 15 per cent of the total mine production.
The steep fall caused several broking houses to revise their estimates during the day.
Those who had given medium-term forecasts found the predicted price was breached within a few hours.
Gnanasekar Thiagarajan, director at risk advisory firm Commtrendz Research, said he had recommended a level of $1,385 for gold in three months, which was achieved in just three hours.
"Gold broke the medium-term target of $1,385 on Monday, setting the next support level at $1300 an oz, which is possible very soon. The sentiment has changed completely from bullish to bearish within no time.
After 12 continuous years of upsurge, weakness of a year or two is imminent.
The market continues to remain in panic-selling mode, as traders exited together on hearsay. But the long-term bullish trend continues due to inflationary worries."
A majority of unorganised sector jewellers in Mumbai shut shop for the day this afternoon on falling gold and silver prices.
They are largely unhedged on commodity exchanges and incurred huge losses on stock, both physical and on positions in the bourse.
Stockists bought gold from banks anticipating the demand for gold and silver to increase once the market stabilises and marriage-related and Akshaya Tritiya (May 13) purchases are made.