Amid threats of a widening drought, global credit rating agency Moody's on Wednesday projected India's economic growth to slip to 6.2 per cent this fiscal from 6.7 per cent in the previous fiscal.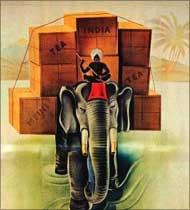 "India's GDP growth for fiscal 2009-10 is forecast to slow to 6.2 per cent," Moody's Economy.com, the global rating agency's research arm said.
Moody's forecast is in agreement with the Reserve Bank of India's prediction of 6 per cent growth with an upward bias.
This is lower than the country's growth rate of 6.7 per cent for the financial year 2008-09.
"The drought is clearly taking steam out of India's growth momentum and another emerging concern is food price inflation," the agency said.
The report said unlike the global recession, which turned out to be "only a mild drag on India's economic performance" the impact of the delayed monsoon could be more on the economy.
Further, it said agricultural output accounts for less than one-fifth of the country's GDP but as two-thirds of India's population lives in the rural area and depend on farm income, the effect could be felt.
However, it said government spending is expected to surge despite a high public debt burden.
"Policymakers have started exploring new funding channels such as selling stakes in state-owned enterprises and promoting public-private partnerships," it said.