Being the chief financial officer of Infosys is perhaps among the three toughest jobs, according to Mohandas Pai, ex-Infosys CFO, Board Member and HR head and now with Manipal Global Education Services.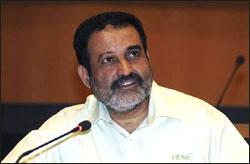 Pai knows what he is saying, after all he was at the helm of the company's finances from 1994 to 2006.
He has also played a critical role in the branding of the company, in articulating a clear financial policy for the company and enhancing transparency levels at the company. Thereafter he also heading Infosys' human resources.
Terming the recent management rejig as part of the executing phase of the restructuring happening at Bangalore-based Infosys, Pai said that the timing for Rajiv Bansal to take over the role of the CFO could not have been better.
"He is getting on the role at the right time. He will be able to grow in the role. I think being the CFO of Infosys is one of the top jobs in the technology sector. Rajiv is a good guy and has a delivery experience too, he suits the role," said Pai.
Explaining the importance of the the post, Pai said that the dynamic global environment makes this job all the more challenging. "If you were to ask me some of the top jobs according to sectors include CFOs of Infosys for the IT services industry, Tata Steels in manufacturing, in banking SBI and HDFC,  L&T in capital goods and Reliance Industries in oil and gas," said Pai.
Pai said that the next CEO and CFO will face the most challenging roles as they will redefine Infosys and chart a new course.