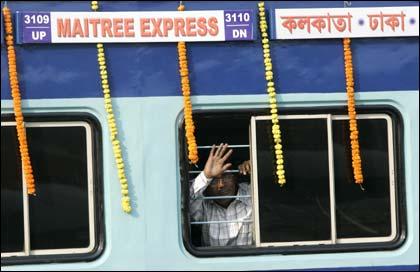 On the eve of Prime Minister Narendra Modi's visit to Bangladesh, experts on Friday pitched for enhanced bilateral ties through the resolution of long-pending issues, including a simpler visa regime, better road and rail connectivity and cooperation in the field of energy and water security.
Speaking at a discussion on 'India-Bangladesh Relations: Land Boundary and Beyond' organised by the Observer Research Foundation, former Bangladesh minister Muhammad Hasan Mahmud said that after Foreign Minister Sushma Swaraj's visit to his country last year, many initiatives were undertaken by both governments, but a great deal of work still needs to be done.
He also emphasised the need for securing the borders between the two countries to address the issues of human trafficking.
"There is great enthusiasm ahead of Prime Minister Modi's visit to Bangladesh.
"After the Land Boundary Agreement, people want something more.
"Getting a visa to India is very difficult. We are hopeful that after Modi's visit, this problem will be solved. There should also be more rail services between Kolkata and Dhaka," said Mahmud, the Chairman of the Parliamentary Standing Committee on Environment and Forest in his country.
The decision to operationalise the India-Bangladesh Land Boundary Agreement was cleared by the Indian Parliament last month. It was one of the long-pending issues between the two South Asian neighbours.
Mahmud added that with better road connectivity, Chittagong port could be used for shipping goods to the northeastern states of India.
Mahmud, however, lamented the fact that neither country nor the region at large was taking full advantage in the field of energy security.
"Bangladesh is now getting electricity from India. This was unimaginable five months ago.
"However, a lot still needs to be done in this sector, not only between the two countries
but also within the region. Nepal and Bhutan have the capacity to generate 1,20,000 MW and 20,000 MW of hydroelectricity. We are not using this," he said.
Talking about the problem of porous borders, Mahmud added, "Securing borders is another important issue.
"Every year, some 50 people are shot dead while crossing the borders. This problem has to be addressed."
Modi will reach Bangladesh capital of Dhaka on Saturday morning for his two-day visit, during which he will have a tight schedule as, besides holding detailed talks with his Bangladesh counterpart Sheikh Hasina, he will attend several programmes and pay a visit to the Memorial of the 1971 Liberation War.
Meanwhile, responding to a query on growing Bangladesh-China ties, Mahmud said that India-Bangladesh relations and its links with his Awami League party were 'incomparable'.
"Bangladesh's relationship with China will never affect its ties with India," he said.
Pinak Chakravarty, a former Indian envoy to Bangladesh, stressed on the need for greater cooperation between the two countries in the field of border development and management and for increasing rail connectivity.
He also called for people of one country being allowed to work in the other.
"We need to have better rail connectivity with Bangladesh by having one more railway bridge. That will be a game-changer.
"The Petrapole border transit should also be diversified and Chittagong port needs to be developed into a deep sea port. This can benefit both nations," Chakravarty said.
Rajeet, another former envoy to Bangladesh, said that the South Asian neighbour was a key element for India's 'Look East Policy'.
Image: Dhaka-Kolkata Maitree Express; Photograph: Indrani Roy/Rediff.com
© Copyright 2022 PTI. All rights reserved. Republication or redistribution of PTI content, including by framing or similar means, is expressly prohibited without the prior written consent.