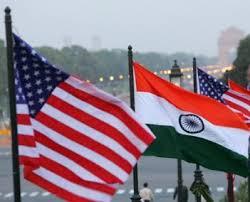 We stand ready to help India address its internal challenges, says US

National Democratic Alliance government has taken a number of positive steps for streamlining the economy but is not moving as fast as America would like to have, a top US official has said, offering help to address India's internal challenges like bureaucratic and infrastructure bottlenecks.
Underlining that India-US commercial ties has considerable room to grow, Arun M Kumar, US Assistant Secretary of Commerce for Global Markets, said "India is only our 11th largest trading partner and 18th largest export market.
"Two-way trade is more than five times smaller than in the US-China relationship."
"India's vast untapped potential makes playing the long-game worthwhile," said Kumar, who is also Director General for the US and Foreign Commercial Service, at an event organised by Atlantic Council, a top American think-tank.
Listing out the challenges being faced, he said India's bureaucratic capacity; the overall ease of doing business; systemic infrastructure bottlenecks; and the challenge of finding adequate financing to complete infrastructure and other large-scale projects are the major hurdles.
"We stand ready to help India address its internal challenges.
"By helping facilitate a single market, the Goods and Services Tax is an important building block to facilitate greater trade and investment with India.
"The Modi government is aware of the hurdles, and while it is not moving as fast as some would like, it has taken a number of initial, positive steps," he said.
The US officials said the Strategic and Commercial Dialogue can and should be the long-term vehicle to help drive the commercial aspect of the relationship.
Private sector from each country will be active participants in driving the relationship forward in the years to come, he noted.
Observing that America's commercial engagement with India is strategic, Kumar said looking to the future, the two growing economic relationship can serve as an anchor for even greater political cooperation between the world's two largest democracies.
"Closer commercial ties can provide ballast to our relationship when occasional irritants pop up.
"It can serve as the basis for greater cooperation and engagement elsewhere in Asia: National economic strength can help both countries ensure the Rebalance to Asia and Act East policies have staying power," he said.
It will help support democratic India's growing positive role in world affairs, he added.
Kumar said the Commerce Department views India as an opportunity with enormous unmet potential, the trade being nowhere close to where it should be.
"And we realise it must be a long term partnership," he said.
Noting that the US-India commercial relationship has the potential to be historic and transformational, he said, "By virtue of the size of the two economies, this relationship can create greater prosperity for businesses, workers, and communities in both our nations."
"Exports to India support 180,000 US jobs, and India's exports to our country support roughly 365,000 Indian jobs.
"US firms employ about 840,000 people in India, while Indian-owned companies employ nearly 44,000 people in our communities," he said.