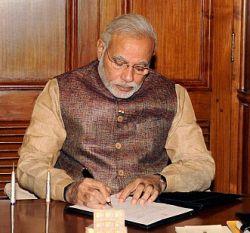 Top civil servants will get to travel much less than they are used to. Prime Minister Narendra Modi wants secretaries across ministries and government departments to cut on domestic and foreign tours, even when the ministers concerned are leading delegations to any place, Cabinet Secretary Ajit Seth has conveyed in a written note.
Trips of secretaries must be planned only when the "joint secretaries and additional secretaries are not likely to address the needs".
Seth has asked for strict compliance with the "observations of the PM".
In another note on the subject, chief ministers (CMs) and ministers across state governments and Union Territories have been told to keep the ministry of external affairs (MEA) and the Cabinet Secretariat in the loop about the proposed foreign visits, whether those are official or private trips.
Prior political clearances are also mandatory for CMs and state ministers.
In addition, MEA has to be kept informed of the visits when these are actually made.
Earlier, soon after the Modi government had taken charge, a salvo was sent to secretaries for not presenting tour proposals on time for approval.
Seth had, in a letter issued in June, said the prime minister was concerned over last-minute vetting of proposals.
Secretaries were told to give their proposals at least 10 days ahead of a tour.
They were also asked to give details of the tasks to be undertaken during the tour, as well as post-visit reports, along with the outcome achieved.
The rules for CMs and ministers at the Centre or state were also modified in June, seeking proposals 10 days ahead of the tour, rather than only five days before the trip.
The latest diktat is a sign of a clampdown on foreign and domestic tours getting even more severe.