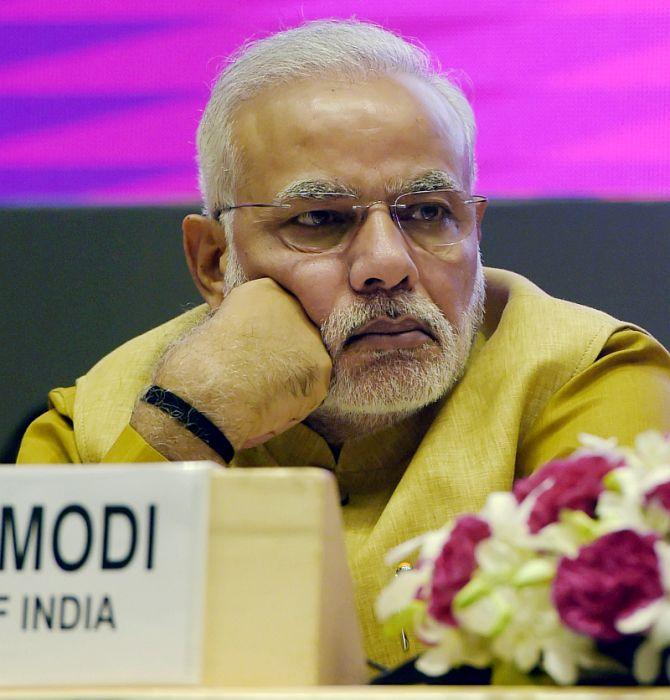 As Prime Minister Narendra Modi visits US, fund managers from India and abroad expect improving sentiments and impressive returns from Indian markets to help attract billions of dollars flowing into the country's asset management industry.
Reliance Capital Asset Management CEO Sundeep Sikka said that his meetings with various institutional investors in New York show that they are very bullish on India and ready to pump in funds to benefit from the country's strong fundamentals and the superior returns being given by Indian markets.
"While it is difficult to put a number to the expected fund flows, more than $20 billion have already flown in this year and this trend is expected to gain further momentum to take the size of in-bound funds to much higher level," Sikka told PTI in an interview.
Sikka, who was here to chair a session on Indian asset management market during the India Investment Forum organized ahead of Modi's five day visit beginning on Friday, said that institutional investors in New York are waiting to invest in India and Prime Minister's visit was expected to give the much needed fillip in this regard.
The Indian asset management industry is estimated to be worth over Rs ten lakh crore and is expected to double in size in the next few years. There are nearly 45 fund houses, Indian and foreign, present in the country.
During the event, organised by Institutional Investor Forums, several fund managers said that many of India's largest asset management firms are emerging as global players, and a few are beginning to look toward Europe and North America with a keen eye on the huge pools of assets there.
They also discussed what the future of India's internal asset management industry would look like, and what role foreign asset managers will play in the development of this vital sector.
Naganath Sundaresan, CEO of DSP BlackRock Investment Managers Ltd, said that investors need to take a long-term view on India.
"I am pretty bullish that the Indian asset management industry will grow manifold in the long-term of about 10-15 years," he said.
Sunil Singhania, Chief Investment Officer (Equity) at Reliance Capital Asset Management, said that the potential remains immense for Indian fund houses and the flow of funds remain strong.
He said that India has always shown that it can come back very strongly after every bad phase and "we are seeing a robust growth trajectory going ahead".
George Hoguet, Managing Director and Senior Portfolio Manager and Global Investment Strategist at State Street Global Advisors, said that India's share in global economy is certainly going to increase and the institutional investors must make big strategic allocations to benefit from this market.
Hoguet said that he can see a clear emerging trend of strong growth ahead in the Indian asset management industry.
Harshendu Bindal, President of Franklin Templeton Asset Management India, said that the foreign fund houses operating in India would need to think global and act local, as Indian asset management industry was highly localised in nature.
Bindal also said that "we have highly underestimated the Indian asset management industry, which has grown even during the recent years that have been broadly known as bad for this segment".
"I think there are immense opportunities still ahead," he said, while adding that Franklin Templeton has been successful in India as it understood the market well and has spent time and energy on building capabilities.
Nishith Desai, Founder & Managing Partner of leading law firm Nishith Desai Associates, said the environment has become much better today, although issues like taxation need to be taken care of.
Expressing his bullishness, Singhania said that the money market instruments have been strong in Indian markets during the last 5-6 years and investors are now making strategic changes in their asset allocations, rather than taking out the money when the performance of money market has not been so good.
Franklin's Bindal said there are challenges like in regulatory framework for a significant flow of foreign money to come into India and the government would need to step in to make it easier for overseas institutional players to come in.
Sundaresan of DSP Blackrock said that there is a material upside to Indian equity markets and the institutional investors should look at that potential.