Several industry leaders pitched for a interest rate cut saying it would help them take risks and scale up investments.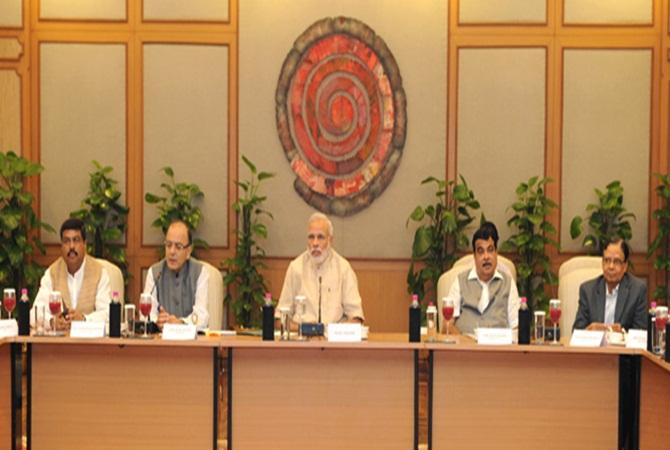 Image: Prime Minister Narendra Modi chairing a high-level meeting on the global economic scenario, in New Delhi on September 08, 2015. Photograph, courtesy: PIB
Prime Minister Narendra Modi on Tuesday asked India Inc to increase risk-taking appetite and step up investments even as industry leaders pressed for interest rate cut and more policy action to improve ease of doing business.
"Prime Minister has said that industry must take risk and increase investments...we must go out and invest. Industry has a role to play," CII president Sumit Mazumder said after the meeting of Prime Minister with CEOs, bankers, economists and bureaucrats on the global economic slowdown.
Several industry leaders meanwhile pitched for interest rate cut saying it would help them take risks and scale up investments.
"Prime Minister said this is an opportunity for us to take advantage and invest...cost of capital is too high but I don't know how many people can go ahead to take risk and invest...many of us raised the issue of interest rate," Ficci president Jyotsna Suri said.
Assocham president Rana Kapoor said that Prime Minister asked industry to "catalyse risk taking ability".
He said the issue of capital requirement of banks to meet economic growth and the need to bifurcate bad assets of the banking system came up for discussion.
As far as the Goods and Services Tax (GST) implementation is concerned, Finance Minister Arun Jaitley expressed hope that it would by rolled out, Mazumder said, adding the land bill did not come up for discussion.
The industry leaders who attended the brain storming session with Modi on 'Recent global events: Opportunities for India' were Reliance Industries Chairman Mukesh Ambani, Tata Group head Cyrus P Mistry, Aditya Birla Group head Kumar Mangalam Birla, Sunil Bharti Mittal of Bharti Airtel and ITC chief Y C Deveshwar.
Reserve Bank Governor Raghuram Rajan as well as Road Transport and Highway Minister Nitin Gadkari, Power Minister Piyush Goyal and Oil Minister Dharmendra Pradhan were also present.
Former Sebi chairman G N Bajpai said the Prime Minister asked the industry to encash the opportunity available to it and leverage the infrastructure system.
On the other hand, he said, India Inc suggested various steps for improving the economy and ease of doing business.
According to Mazumder, the main issues discussed during the meeting were slowdown in China, how to convert the present global situation into an opportunity, ease of doing business and ways to boost agriculture.
"China was discussed. On how it should be tackled and whether it's an opportunity for us. But Prime Minister did say that somebody's pain should not be our gain. So we should look at it as an opportunity and we should move forward on that," he said.

The CII president said it was "acknowledged that on 'Ease of Doing Business' we have not achieved 100 per cent success but we have made some progress in that".
Ficci's Suri said the talks centred on how to push domestic investments, boosting infrastructure, skill development, promotion of start-ups and lowering the cost of capital to boost investments.
"We have requested that cost of capital be reduced, infrastructure development be expedited and tax incentives be provided to budding entrepreneurs," Suri said.
However, both Suri and Mazumder said the government's decision to allow an ordinance that eased land acquisition rules to lapse was not discussed.
"Improving flow of credit, derisking and de-stressing public sector balance sheets, improving overall lendable resource of the banking system, innovation and entrepreneurship are the major areas on which PM is emphasising frequently," Kapoor said.
The others who attended the meeting were state-owned gas utility GAIL India Chairman B C Tripathi, BHEL chief B Prasad Rao, ICICI Bank CEO Chanda Kochhar and SBI Chairman Arundhati Bhattacharya.
Ajit Ranade, Chief Economist, Aditya Birla Group, Jahangir Aziz, Chief Economic, JP Morgan and Subir Gokarn of Brookings Institute were among the economists/experts present at the meeting.
Government officials present the meeting included Finance Secretary Ratan P Watal, Commerce Secretary Rita Teaotia, Economic Affairs Secretary Shaktikanta Das and Chief Economic Advisor Arvind Subramanian as well as Niti Aayog vice chairman Arvind Panagriya.
The meeting was held at a time when global markets are in turmoil caused by a slowing Chinese economy, devaluation of the yuan and concerns surrounding the prospect of a US rate hike.
© Copyright 2021 PTI. All rights reserved. Republication or redistribution of PTI content, including by framing or similar means, is expressly prohibited without the prior written consent.