Tyre maker Dunlop's owner Pawan Kumar Ruia has submitted a bid to acquire South Korea's bankrupt SsangYong Motor, while Mahindra & Mahindra is also understood to have made a similar move.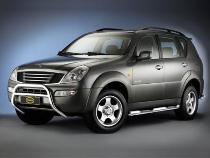 May 28 (Friday) is the last day for submitting bids to acquire Ssangyong Motor, which has been undergoing a court-led restructuring from 2009 after suffering heavily due to the downturn in auto industry.
The company has been estimated to be worth up to $500 million. When contacted, a spokesperson of the Ruia Group confirmed putting in the bid but declined any further details.
Industry sources said Mahindra & Mahindra has also placed its bid for the troubled South Korean company.
When contacted, an M&M spokesperson said: "As a company policy we do not comment on speculative report."
The sources said M&M and Ruia will have to slug it out with other rivals, including South Korea's third largest car maker Renault Samsung and the deal value can run up to $600-800 million.
In 2008, Mahindra had lost out to Tata Motors in the bid to acquire Jaguar Land Rover. SM, which is mainly into manufacturing of sports utility vehicles and recreational vehicles, has SUV models like Rexton, Kyron and Actyon and sedan 'Chairman'.
The sources said M&M is interested in the company as it can gain technological benefits from the range of SUVs that SM has at its disposal.
China's SAIC Motor Corp owns 10 per cent in the troubled automaker and about 70 per cent is held by creditors, led by state-owned Korea Development Bank.