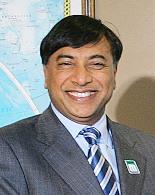 Indian steel tycoon Lakshmi N Mittal on Monday rubbished media reports here suggesting that he had bid for an iconic mountain range in Britain.
The 2,850-foot high Blencathra mountain in the picturesque Lake District region of Cumbria is at the centre of a protest to keep the property within local hands.
An executive offer has been made for the range nicknamed Saddleback and there was some speculation that the offer may have come from Mittal's steel firm. But ArcelorMittal has now denied any link to such an offer.
"We have no idea where this story came from, and it isn't true," a company spokesperson said.
The property had been put on the market earlier this year by the Earl of Lonsdale, Hugh Lowther, with an asking price of 1.75 million pounds. Funds from the sale of the 2,676-acre plot will go towards paying off the reported 9-million-pound tax Lowther owes from the inheritance of his father who died eight years ago.
A local residents' group, the Friends of Blencathra, put in a bid for the mountain and applied to Eden District Council to ensure the area remains a community asset and does not fall into private hands.
However, selling agents H&HLand and Property confirmed that a competing executive offer had been made which was now under consideration.
John Robson, managing director of H&HLand and Property, told PTI, "We are moving towards exchange of contracts, however until the time contracts have been exchanged, negotiations with all parties are ongoing. In addition no further announcements are likely to be made by H&HLand and Property until contracts have been exchanged".
British media reports had said that the steel tycoon had bid for the mountain range sparking protests from local people.