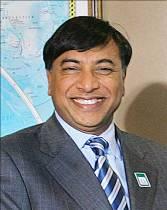 Steel baron Lakshmi Niwas Mittal is close to buying KazStroyServices Ltd, a Kazakhastan-based engineering, procurement and construction company.
The company is present in Kazakhstan, India, Turkmenistan and West Asia, said sources privy to the deal.
It primarily builds oil and gas pipelines and refineries. Though the deal value could not be ascertained, it is said Mittal is buying the company in his personal capacity.
"The reason behind the widespread attention from Indian analysts and brokerages in the deal is because KSS owns 52.47 per cent stake in Petron Engineering Construction Limited, which is listed on the Bombay Stock Exchange.
It has a market capitalisation of around Rs. 319 crore (Rs. 3.19 billion). The deal at the parent level is expected to be finalised and announced in a month's time and after that, there would be an open offer for the Indian shareholders," said a source.
By virtue of acquiring majority stake in KSS group, the open offer option would be triggered, since Mittal would acquire more than 20 per cent stake in the company.
Currently, KSS owns 52. 22 per cent stake through Petron Investments Pvt Ltd and another 0.13 per cent through KazStroy Engineering (UK)
Ltd.
Another person privy to the development said: "The stock has moved up considerably in the last month. Today, it touched an intra day high of Rs. 489.45 per share, but late fell to Rs. 424 per share. It is being indicated that the open offer would be around Rs. 680 per share. But it is too early to comment on the pricing."
When contacted, a PECL spokesperson said: "We are not aware of any deal of this sort."
Replying to a mail, Arcelor Mittal group said: "We do not comment on any market speculation."
According to the company's website, KSS group structure has two companies under its belt - Petron Engineering Construction Ltd, which focuses on setting up oil and gas pipelines, and Petron Civil Engineering Pvt Ltd, which offers cement, power plant, refineries and waste management services. Its international joint ventures include Royal Boskalis Westminster N V, PSN KazStroy and Keppel Kazakhstan LLP.
The PECL stock opened at Rs. 461.10 per share and closed at Rs. 424, down Rs. 35.45, or 7.72 per cent, on the Bombay Stock Exchange.