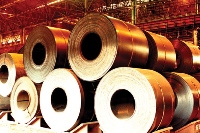 ArcelorMittal said on Wednesday it is in talks with the Orissa and Jharkhand governments for alternative sites for its Rs 1 lakh crore (Rs 1 trillion) steel projects which have remained stuck, mainly due to problems in acquiring land.
Aditya Mittal, chief financial officer of the world's largest steel maker, said through a conference call that ArcelorMittal is also exploring options to move out of the two states where their projects are facing protests.
"We are in talks (with the state governments) for (new) potential sites for our projects. We can shift the sites within the two states. Theoretically, we are also looking at other sites within the country," Mittal said.
The company is 'disappointed' with the progress made so far on its proposed 12-million tonnes per annum steel plant, each in Orissa and Jharkhand. It has rued the regulatory hurdles as well.
However, Jharkand Industry and Mines secretary N N Sinha said from Ranchi over phone that the state government has not been formally intimated about the company's new plans.
"There have been many informal talks in this regard, but we have not received any formal communication yet," he said. The Orissa government could not be reached for comments. Asked whether the NRI billionaire L N Mittal led firm would drop the projects, Mittal said, "India continues to be an important destination for ArcelorMittal."
"We are disappointed with the progress made in India. It is a greenfield project, we were aware of the challenges, like land acquisition, we could face in India," Mittal added.
The steel major had proposed to set up a plant in Keonjhar, Orissa, and at the tribal-dominated area between Khunti and Gumla districts of Jharkhand. Faced with similar problems, South Korean steel giant Posco had earlier said that they will slightly alter the site of its proposed Rs 51,000 crore (Rs 510 billion) steel plant near Paradeep in Orissa.
ArceloMittal needs about 10,000 acres of land in Jharkhand and about 8,000 acres in Orissa. It has been allocated Karampada mines in Jharkhand with estimated reserves of 65 million tonnes of iron ore.
The company needs about 600 million tonnes of iron ore to feed its 12-MTPA steel plant. The steel major still awaits iron ore mining leases in Orissa.
Last week, heeding to the Centre's advice, the Orissa government held talks with ArcelorMittal and Posco to clear the hurdles delaying investment by the steel giants in the state.
The company had earlier planned to start production in India by 2012 but later said that it would not be able to commence it before 2014.
Shortly after the merger of Mittal Steel with Arcelor in 2006, Mittal had announced plans for a 12-MTPA steel plant in Orissa and thereafter an identical project in Jharkhand.