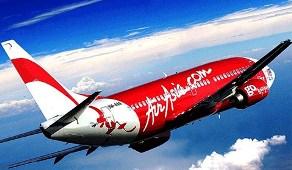 Planning Commission Deputy Chairman Montek Singh Ahluwalia on Monday expressed hope that inter-ministerial differences would be sorted out paving the way for Tatas to set up airline company in collaboration with Malaysian budget carrier AirAsia.

"I don't know what the detailed differences are.

"I am sure they will be sorted out.

"If Tatas and an international airline want to set up an Indian airlines as long as the international fellows (hold up to) 49 per cent, they should be allowed to do so," Ahluwalia told reporters in New Delhi.

"In my view, if Tatas want to set up a company to run an airline within that 49 per cent limit, the intention of policy as far as I know, is quite clearly that they should be allowed to do it," he added.

The Foreign Investment Promotion Board on March 6 cleared the Malaysian budget carrier AirAsia's bid to launch an airline in India by joining hands with Tata Sons.

However, soon after the FIPB nod to the proposal, the Civil Aviation Ministry sought further clarity on the FDI policy in aviation, particularly on whether a foreign airline could invest in a new venture.

"There are some procedural problems. . . The notification says (investment by a foreign airline in) an Indian carrier. So they (investor)
have to follow the procedure because the Cabinet took a decision, following which the Commerce Ministry issued the notification," Civil Aviation Minister Ajit Singh had said.
AirAsia has announced it would set up a 49:30:21 joint venture with the Tata Sons and Telestra Tradeplace of Indian investor Arun Bhatia to launch a new Indian airline.
The initial investment by the AirAsia-led joint venture would be Rs 80 crore (Rs 800 million).
An official has said the FIPB clearance was granted in accordance with the policy which allows up to 49 per cent FDI by a foreign carrier in an Indian airline company.
With the FIPB clearance, the AirAsia joint venture would now have to approach aviation regulator Directorate General of Civil Aviation (DGCA) for further clearances and a scheduled air operator's permit which allows an airline to undertake flying operations.
On the controversies over PPPs, Ahluwalia said, "this is unfortunate. We are a very participative democracy.
"People have questions. I think those questions should be asked and those should be answered. Sensible questions should be answered and if there are flaws, those should be corrected."
"There should be clarity on PPP. The terms on which PPP being, should be very clear. We shuld know, what the government would do and what the PPP has to do itself", he added.
© Copyright 2022 PTI. All rights reserved. Republication or redistribution of PTI content, including by framing or similar means, is expressly prohibited without the prior written consent.