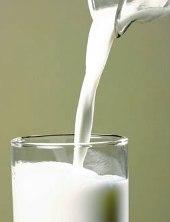 Milk prices are set to soar yet again, with milk sellers led by the Gujarat Cooperative Milk Marketing Federation resorting to a price hike.

Increase in input costs, including cattle feed prices, dry & green fodder prices, cost of diesel and other inputs has prompted at least two leading milk sellers to hike milk prices by five per cent.

GCMMF, which sells the 'Amul' brand of milk, has decided to raise the price of all Amul milk variants by Rs 2 a litre in the Delhi and Mumbai markets, with effect from October 15.

Joining Amul is a Mumbai-based private dairy, Parag Milk Foods, owner of the Gowardhan brand of cow milk, which has implemented a similar raise in prices.

"This year, an extended monsoon has led to the scarcity of dry fodder and therefore, fodder prices have overall increased by about 30 per cent.

"Further, there has been an increase of 15 per cent in the price of cattle feed since September 2012," said R S Sodhi, managing director, GCMMF.

"Price rise was imminent, as overall costs, including food inflation, fuel, labour cost and fodder put pressure on farmers.

"Current food inflation surged to 18 per cent and cattle feed prices increased 15 per cent.

"But Amul milk prices have increased by only 10 per cent with the latest raise," Sodhi said.

Following the price rise, Amul Gold (full cream) milk will cost Rs 44 a litre, compared to the current price of Rs 42, while Amul Taaza (toned milk) will cost Rs 34 a litre, up from the current Rs 32.

The new price of Amul Slim and Trim double toned milk will be Rs 30 a litre, compared to the existing price of Rs 28.

The increase will be effective from October 15
in New Delhi and Mumbai, which will be followed by a similar raise in other cities within a week.
However, in Gujarat, the price rise will be made effective only by the month-end, GCMMF officials said.
With an average daily milk procurement of over 11.5 million litres per day (lpd), Amul sells 3.5 million litres of milk daily in the Delhi and Mumbai markets.
Besides the Gujarat, Mumbai and Delhi markets, Amul also supplies milk to Kolkata, Kanpur, Lucknow and Nagpur, among others.
Dairy experts noted that even after the price hike, milk was under-priced in the country.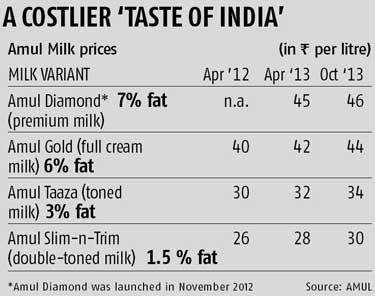 "Most of the private dairies in north India pay Rs 38 a litre to farmers, while Amul pays around Rs 35.
And we sell at around Rs 42 a litre. Even after a price hike of Rs 2 a litre, dairies will make a loss of Rs 2-4 per litre," said a dairy source from Dholpur in Rajasthan.
Parag Milk Foods has also raised milk prices by Rs 2 per litre.
"The prices have been increased from Dussehra in the Mumbai market," said Devendra Shah, promoter and chairman of Parag Milk Foods.
"We are not revising milk prices in the immediate future. Milk price rise depends on local areas and market conditions," said R G Chandramogan, chairman and managing director of Hatsun Agro Product, a leading South India-based private dairy.
He, however, admitted that there is definitely pressure on dairies to hike milk prices due to a host of reasons including rise in inflation as well as diesel and fodder prices.
"Although we are not increasing prices immediately, we may assess the situation after two to three months," Chandramogan added.