Finding is part of a survey conducted by Janaagraha Centre for citizenship and democracy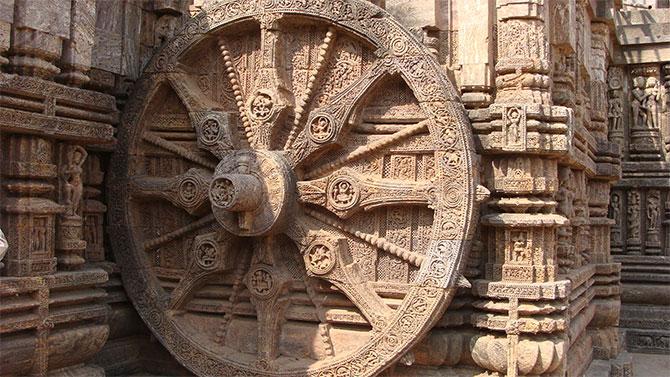 Image: Wheel of the chariot at Sun Temple, Konark, Bhubaneswar. Photograph: PTI Photo

Bhubaneswar, Ahmedabad, Raipur and Ranchi improve their ranking in the urban governance scores for India's cities, while large cities such as Bengaluru, Delhi and Mumbai have seen governance fail in the last year, says the annual survey of cities systems (ASICS) for 2016.
The annual survey evaluates the quality of governance in 21 cities in India based on urban planning and design, urban capacities and resources, empowered and legitimate political representation and transparency, accountability and participation.
The survey was done by Janaagraha Centre for citizenship and democracy, a non profit organisation.
While Kerala's capital city Thiruvananthapuram retained the number one position for two consecutive years, West Bengal capital Kolkata retained its third position for two years in a row.
The average ranking of the cities in India still remained between 2-1 and 4.4 much below the global benchmarks.The urban governance scores for cities such as New York is 9.8 and 9.3 for London.
"While the positions or rankings changed, the average of the country still remained low. While we are on the path of improvement there is still a lot that has to be done. We need to reach a mark that the survey measures constant improvement," said V R Vachana, associate, advocacy and reforms.
The second rank was occupied by Pune which jumped two ranks above the rank last year followed by Kolkata which retained the third position.
Bhubaneshwar jumped eight ranks since last year due to a number of reforms such as instituting Municipal cadres, tiered spatial planning at the ward level and single window clearance process for development projects in conformity plans.
Bengaluru despite faring well in the transparency aspects fell from twelfth position to the sixteenth position.
"One of the major reforms that need to be taken is extension of the tenure of the Mayor. Currently, it is one year, it has to be extended to five years also, there should be a metropolitan Planning Committee set up for formulating the city's metropolitan plan. Currently, this is done by the BDA," added Vachana.
The report will be formally released in Delhi on Friday. The 2015 Annual Survey of Cities Systems by the organisation was included in the Economic Survey of India in the chapter 14.
After the last survey report, the organisation is working with the Rajasthan Government to get their annual accounts audited by chartered accountants. Around 188 wards now have the accounts audited by professional CAs.
"The rankings act as a way for the cities to see what they are lacking in and where they can improve. We also give a roadmap for reform along with the report which the state governments can make use of," added Vachana.