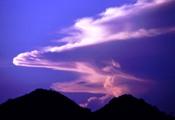 Paucity of monsoon rainfall alone is not a sufficient determinant of drought, maintains the World Meteorological Organisation.
Several other factors need to be taken into account to declare an agricultural drought.
This opinion emerges from a meeting of 19 scientists from all regions of the world, convened recently by the WMO at Murcia, Spain, to frame a reliable drought index.
These experts called for moving beyond the use of just rainfall data in computing indices for the description of agricultural drought and its impacts on agriculture.
"In the context of climate variability and change, water scarcity and food security, it is important to use more comprehensive data on rainfall, temperature and soils in computing drought indices," said the global meteorological body in a statement issued after the meeting.
The experts pointed to the strong need for better soil information and establishment of soil moisture monitoring networks.
This would require closer cooperation among the authorities responsible for addressing drought issues at local, national and regional levels, the WMO said.
The context

The meeting assumes significance in view of the stagnant agri productivity and rising food deficits in many parts of the world.
"Increasing global demand for cereals to feed the growing populations will require a 40 per cent increase in grain production in 2020," the WMO stated.
The challenge is to revive agricultural growth at the global level. In developing countries, where adoption of improved technologies is too slow to counteract the adverse effects of varying environmental conditions, climate fluctuations and droughts are the main factors which prevent a regular supply of food, the key to food security.
In India, the state governments are charged with the responsibility of declaring drought in an area. Though rainfall deficiency is usually the key determinant, other considerations, including financial assistance from the Union government, often play a role in drought declaration.
The Indian Council of Agricultural Research takes a broader view of agricultural drought, saying such a situation arises from the deficiency of rainfall over an extended period.
The ICAR's conceptual definition of agricultural drought states: "It is a protracted period of deficient precipitation resulting in extensive damage to crops and loss of yields."
Agricultural drought occurs when plant growth gets seriously affected on account of prolonged shortage of moisture in soil, ICAR sources say.
"In the arid and semi-arid areas, the specification of drought cannot be divorced from land utilisation. Rainfall too meagre to produce crops may be adequate for pastures," these sources added.
However, the India Meteorological Department, as also the Irrigation Commission, uses rainfall statistics and irrigation facilities for determining agricultural drought.
They define drought years as those when annual rainfall is less than or equal to 75 per cent of the normal. If such drought occurs in any particular area in over 20 per cent of the years, that area is designated as 'drought-prone', provided irrigation facilities are inadequate there.
For acceptable measures
Different agencies in other countries, too, use different parameters for calling an agricultural drought. In view of lack of uniformity in the perception of drought, the WMO meeting called for the use of common agricultural drought indices, besides a common framework for drought monitoring and early warning.
They recommended WMO  conduct a survey to compile and assess the capacities and future needs of national meteorological and hydrological services to build such a common framework for early warning of agricultural drought.