Carnival group buys project in Chandigarh from L&T for Rs 1,785 cr.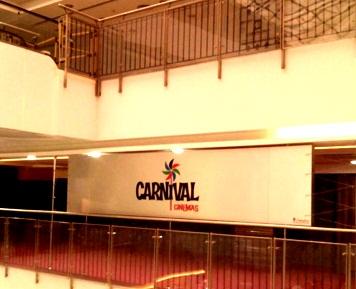 India's property market got a major boost on Wednesday, with two mega commercial deals getting sealed.

In the first, multiplex player Carnival group bought a commercial project in Chandigarh from engineering and construction major Larsen & Toubro (L&T) for Rs 1,785 crore (Rs 17.85 billion).

And in the second, pharma major Abbott purchased 0.43 million sq ft of space from Godrej Properties in Mumbai's Godrej-Bandra-Kurla Complex (BKC) for Rs 1,479 crore (Rs 14.79 billion).
The two million sq ft mixed-use project in Chandigarh includes a mall, a Hyatt luxury hotel and office space.
L&T had put the project on the block one-and-a-half years ago and was in talks with Carnival group for a year or so, sources said.
"It was our strategic decision not to run the malls and hotels," said Shrikant Joshi, chief executive, L&T Realty, which is also looking to sell its upcoming mall in Navi Mumbai's Seawoods. The company was in talks with investors, Joshi said.
The acquisition is expected to help Carnival group widen its portfolio and enable it to achieve a leadership position in the retail sector, the company said on Wednesday.
Carnival Chairman Shrikant Bhasi said: "This acquisition is part of asset creation for the group's investment portfolio. It will help us further expand our capabilities and make inroads into newer markets. This project will be operated as a separate unit, led by its current India-based management team."
Of late, Carnival Group has been on an acquisition drive. The present one is its third real estate acquisition after Leela Infopark in Kochi and Leela Technopark in Thiruvananthapuram.
The group has also bought out the Big Cinemas multiplex business of Anil Ambani's Reliance Group.
Early this year, the group acquired Glitz Cinemas, which was part of Capital 18, a subsidiary of Mukesh Ambani-controlled Network 18 Media.
Property consultants termed the other deal, in which Abbott bought office space at Godrej BKC from Godrej Properties, one of the biggest office space deals in India.

Ashok Kumar, managing director of property consultant Cresa Partners, said the deal, at Rs 34,000 a sq ft, was higher than the market price.

"Abbott paid 10-15 per cent higher than the market price. But since it is for self-use and to house its headquarters, it did not bargain on the price." Lease rents for office properties hover between Rs 250 and Rs 300 per sq ft in BKC and sale prices are between Rs 28,000 and Rs 30,000 per sq ft.
At the space bought from Godrej, Abbott plans to build the Mumbai office headquarters, which will house 1,500 employees.
Godrej BKC, a joint development project of Godrej properties and Jet Airways, is a 1.3-million-sq-ft project.
Mega commercial deals boost India's property mart "Companies like Abbott or large banks or FMCG (fast-moving consumer goods) companies continue to see India as a large market and they are here for the long term. So, it makes sense for them to buy strategic assets," said Sanjay Dutt, managing director, Cushman & Wakefield, the advisor for the deal. "Valuations and deal sizes are going to go up in the country. It is just the beginning."
Pirojsha Godrej, managing director & chief executive of Godrej Properties, said the company would use the proceeds towards debt repayment and explore new opportunities in the property market. Two-thirds of the company's debt pertained to the BKC project, he said.