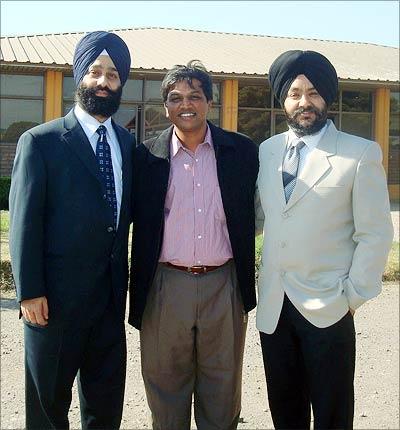 Meet Simmarpal Singh, the Peanut Prince of Argentina.
He lives in a fabulous course-side villa at the prestigious Rio Cuarto Country Club in Buenos Aires. At area nightclubs, he gets premium service for free. And, as if that weren't enough, the local Argentineans consider him a modern-day Maharaja, a direct descendant of royalty.
But, in reality, Singh's not a maharaja. He's actually General Manager - Argentina with Olam International, the $5 billion (Rs $237 billion) global supply chain manager of agricultural products and food ingredients, based in Singapore and run by NRI Sunny Varghese.
The Peanut Prince of Agentina, Singh's amusing nickname, comes from the blog of Rengaraj Viswanathan, India's ambassador to Argentina, Uruguay and Paraguay.
In a May 30 blog post, Viswanathan claims that recently, when playing a recent round of golf at Rio Cuarto, several of the Argentinean players asked him where they could buy a turban and how they should wear it.
Apparently, they wanted to mimic the imminently popular Simmarpal Singh.
'Here lives an Indian maharaja. He looks handsome with his turban. When he goes to the night clubs, he gets premium service and gets it free because they think he is a maharaja,' said the Argentineans, claims Viswanathan.
When he tried to explain that all male Sikhs are expected to wear turbans, and that the turban is not necessarily a sign of royalty, the Argentinean players supposedly asked him not to spill the beans. They were plotting a turban-led takeover of the local night clubs. The unravelling of this secret would spoil their plans!
But, in all seriousness, while Singh isn't technically royalty, he and his company have certainly been an undeniable success in Argentina. When Olam began operations in the South American country in 2005, they ranked 28th in peanut cultivation. Today, Olam is number six.
Singh currently cultivates 12,000 hectares of peanut farms and another 5000 hectares of soya and corn in Argentina's Cordoba province, about 1000 kms from Buenos Aires.
So what is Singh's target for the next few years? To make Olam a top three peanut player in Argentina, according to Ambassador Viswanathan, who had dinner with Singh and his IIT Delhi-educated wife, Harpreet Kaur.
As for the turban-to-royalty scheme of the Argentinean golfers, Singh and his wife laugh. But Kaur is quick to point out the story's lack of feasibility. Her husband simply works too hard for too long to allow time for night clubs, she says.
She's right.
Examining Singh's impressive record, compiled in just three and a half years, it's hard to imagine him spending much time on leisure.
He came to Argentina in 2005 to buy peanuts for Olam's global operations. But upon examining the peanut industry in Argentina, he realised there was a huge opportunity to open up operations in Argentina itself.
And Argentina is a good place to be, too. It's the world's second largest export of peanuts, behind China. In most forms of agriculture, in fact, Argentina is a global leader.
According to Viswanathan, the country exports 50 per cent of its agriproduction of 100 million tonnes. It is the world's largest exporter of soy oil and sunflower oil, the second largest exporter of corn, third largest producer of beef, soyabeans and biodiesel and fourth largest of wheat. It's the fifth largest producer of wine in the world. And on top of all that, it has significant potential to increase its area under cultivation, from the current mark of 32 million hectacres. Compare that number to India's 130 million hectacres, though India and Argentina have roughly same land mass!
With the world increasingly facing water and food shortages, in the future agricultural giants like Argentina are going to become more and more important. So, good for Olam making its entry in 2005.
Seems like Simmarpal Singh, aka The Peanut Prince of Argentina, knows a good bargain when he sees one!

Photograph: Simmarpal Singh (left) with two other Indian-origin Olam managers in South America.
Image: Courtesty the blog (Business with Latin America) of Ambassador Rengaraj Viswanathan