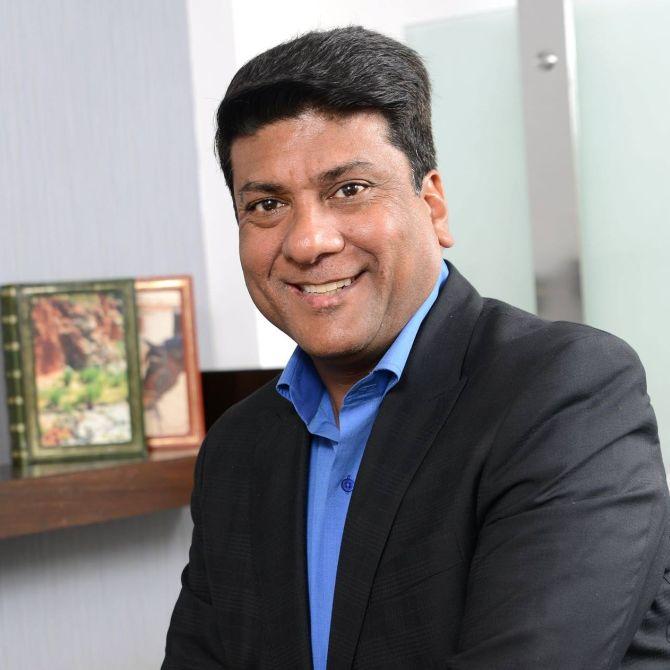 'In two years there will be consolidation. Look at the Indian brands now. Only three of us are surviving, many others have died. What will differentiate us are two things -- timing of our launches in the market and the communication to the consumer," Narendra Bansal, CMD of Intex, tells Arnab Dutta.
A working lunch at New Delhi's Shangri-La hotel is hardly a relaxing break. Located a kilometre from the Central Secretariat -- the busy power centre of the Indian bureaucracy -- it seemed convenient for the 53-year-old chairman and managing director of Intex, Narendra Bansal, who already had a lot on his plate.
As I wait for him at the Tamra restaurant, I think of the kind of traffic Bansal must be facing as he drives from his office in Okhla. He is 15 minutes late but rushes in with a broad smile and an outstretched hand. He looks like a person who makes friends easily.
As we go through our tête-à-tête over the next hour and a half, that first impression is reinforced. Bansal says he likes to take challenges head-on and keep things simple both in his personal life and in business. "Main na zindagi bahut simple jeeta hun ji (I lead a very simple life)," he says every now and then. Intex Technologies, the fourth-largest smartphone company in the country, growing faster than any other, is based on that vision.
Bansal is a dyed-in-the-wool businessman, who mastered the tricks of the trade the hard way. "Bachpan se mereko business ka bada shaukh tha (from my childhood, I had a passion for business)," he says. A large chunk of our conversation is in Hindi, with Bansal's Rajasthani twang -- something that I think reinforces Intex's Indian origin. During his early days in Delhi, after he moved to the city with his father in the early 1980s, he used to trade audio and video cassettes among friends in school to earn pocket money.
The turning point of his life came when he started trading in floppy discs. Those were the days when compact discs and digital versatile discs were seen as things of the future. After making steady profit in that business, Bansal moved to ethernet cards, an essential item in the mid-'90s for internet connectivity, and he discovered that its supply could not keep pace with the growing demand in India. Most traders did not have much knowledge of the big international suppliers, who had adequate stock to feed the market demand. After going through the yellow pages in Taiwan, Japan and Thailand, Bansal identified and convinced a few sellers who were ready to ship the cards to India on credit. That episode offered him a vital lesson: business is all about identifying gaps between buyers and sellers and spotting opportunities in one's surroundings -- something he still believes in.
We turn to the food and start off with some non-vegetarian salad and tandoor-baked chicken. Bansal seems to be enjoying his papad ka shorba -- a Rajasthani dish prepared with vegetables, dried fruits and poppadum. The restaurant is known to offer dishes not served by most five-star hotels in Delhi. The reason for choosing a restaurant so far away from his residence in DLF Chattarpur Farms becomes clear.
"I always see a business opportunity wherever I go," he continues. "Koi bhi problem ho uska solution hamesha aas paas hi hota hai (whatever be the problem its solution always lies close by). What I have learnt is that most sellers do not know their buyers and vice-versa. And that is what keeps a window open for new entrants in the trade." He recalls one incident that reinforced that belief.
Bansal used to operate from Naya Bazar -- a crowded trading hub in the older part of Delhi -- and got tipped off that some company in the country's largest market for electronic goods at Nehru Place needed a printer. The deal remains fresh in his memory because he found out that the buyer and the seller were neighbours and good friends. Yet, neither had any clue about what the other needed. Bansal and his younger brother cut the deal and made a hefty profit on it, reaching the venue riding their second-hand scooter.
The journey of Intex Technologies, a Rs 6,500-crore company (2015-16), is a series of similar incidents. While the majority of the firm's revenue today comes from its mobile handset business, Bansal doesn't seem to have an emotional attachment, if I may use the term, to handsets per se. He might move to another business if that presents him with "a better opportunity" to grow even bigger. "I am personally not interested in technology. I understand business. I am not emotionally attached to mobiles. If required, I will get into some other business. But I will never sell my firm to a multinational company," he says, pointing at hostile takeovers of smaller companies by global firms.
Intex entered the handset business in 2007 and four years ago ventured into another highly competitive category -- that of consumer electronics and appliances. Buying franchisee rights of the Rajkot team (renamed by Intex as Gujarat Lions) in the Indian Premier League is also driven by the same goal -- to make Intex a global brand.
"I want Intex to be a globally respected name. Owning an IPL team is a pure branding exercise. It showcases to the consumer that Intex has got muscle power and is here to stay. To the investor it sends out a strong message, too. The Gujarati community now takes our brand name with considerable respect and reaching out to powerful people has become easier since," Bansal puts it simply.
"Everyone advertises during IPL but all of them do not have the money power to buy a team. Sponsoring a team or advertising would have helped us in terms of sales figures, which we are anyway getting. But this differentiates us."
The move was also driven with an eye to take Intex public. The firm has appointed merchant bankers to work out its valuation for an initial public offer, he tells us.
We order some butter chicken and rotis, and Bansal says he wants to wash down his lunch with a glass of fresh lime and soda.
Holding on to its position in the market -- which has more than 170 brands -- is a challenge. But he says he wants to be scrutinised by investors and market analysts -- something, he believes, will help Intex grow more.
"Jiska timing aur product sahi ho woh upar jayega (the right product at the right time always clicks)," he says.
"There will be pressure for everyone in this competitive environment. Retaining positions will not be easy for anyone. In two years there will be consolidation. Look at the Indian brands now. Only three of us are surviving, many others have died. Ups and downs in market share is a reality because the technology that we offer is almost the same. What will differentiate us are two things -- timing of our launches in the market and the communication to the consumer," says Bansal.
Consolidation is imminent and brands that offer products at the right prices, have a better service network and can gauge the market demand will survive, he adds.
To lend him a helping hand, his daughter has joined the business, following his son Keshav's footsteps. He wants them to roll up their sleeves and pick up the tricks of the trade over time.
Keshav, who is in charge of the firm's communications and IPL affairs, has many things to learn from him, says Bansal. Indeed, his phenomenal rise and success in business has given him considerable authority among his family members, including his mother, who frequently consults him on family issues.
"I want my children to rise one step at a time," he says.