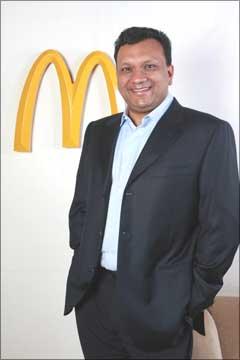 McDonald's is one of the world's leading fast food service companies with footprint in 118 countries. This fast food chain serves around 50 million customers on a daily basis. McDonald's was launched in India way back in 1996. The company plans to invest Rs 150 crore (Rs 1.5 billion) in the current fiscal to open 40 new restaurants in India.
Amit Jatia, managing director, McDonald's India, (west & south), in an interview with rediff.com, speaks about the company as well as its future plans in India.
McDonald's is now a favourite household name. How did you achieve this? What are you expansion plans?
Currently, we have 180 restaurants spread across the country and around 500,000 customers visit us on a daily basis. We plan to open 40 more restaurants across India this year.
The company plans to invest Rs 600 crore (Rs 6 billion) to launch 180-190 restaurants over a period of five years. This means we would be doubling the number of our restaurants by 2015.
To support this growth, we have developed a strong supply chain network which helps us to seamlessly serve the customers.
What are the new flavours you are adding to your menu to cater Indian customers?
Our mantra for success is glocalisation -- a mixture of Indian and global menu. We have reengineered the menu for the Indian customers and have successfully introduced McVeggie Burger, Paneer Salsa Wrap, Chicken Mexican Wrap, Salad Sandwich and other savouries. Recently, we also introduced McAloo Tikki for our customers who want a different taste.
How do you plan to double your customer base in five years?
Customers' convenience is of great importance to us. Our team strategically chooses the right location which will be able to serve the maximum customers throughout the operational timing.
From petrol pumps to kiosk to drive through to home delivery, we are present everywhere. Adding to the portfolio is the latest entrant -- web ordering, which we launched recently.
We are also working on introduction of a new menu for breakfast. Currently this is being tested and offered at selected restaurants.
How do you evaluate the future of fast food chains in India as people are getting more and more health conscious?
On the product front keeping in mind our health conscious consumers, in 2008 McDonald's introduced new whole grain wraps made of multigrain bread consisting of five different kinds of cereals (barley, oatmeal, ragi, wheat flour and maida) and a salad mix of five different kinds of vegetables.
In line with that, we also introduced our salad sandwiches in the same year. Furthermore, we introduced Chicken McNuggets which are also made from quality white meat chicken containing zero gram of trans fat per serving. In addition to this the soft serve ice-cream we offer at our restaurants is healthy and has calcium in it. For example, a medium soft serve cone will have only approx 3% fat content in it.
Image: Amit Jatia, managing director, McDonald's India.