The ministry said some urgent amendments are not there in the ordinance but are required for strengthening the corporate governance
Illustration: Uttam Ghosh/Rediff.com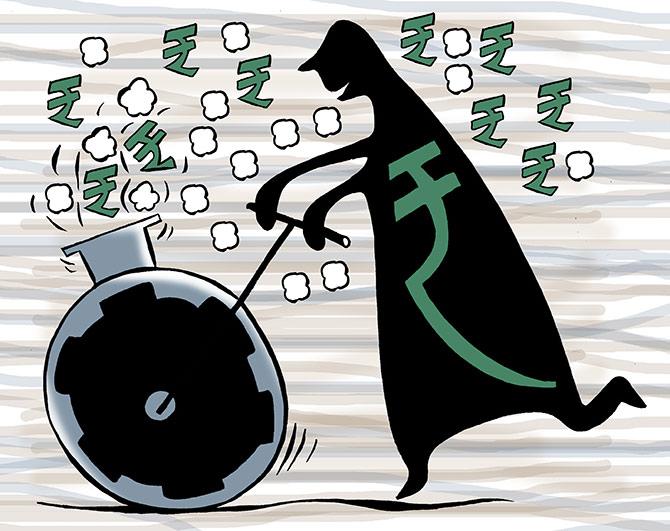 The Ministry of Corporate Affairs (MCA) has not dropped the plan to cap independent directors' remuneration to ensure their independence.
However, this did not figure in the latest amendments to the Companies Act, through an Ordinance.
It has now invited stakeholders' comments on its proposal to limit the independent directors' remuneration.
However, it proposed a slightly higher cap of 25 per cent of independent directors' gross income for the remuneration given by a group of companies, than the 20 per cent suggested by the panel.
It retained the 10 per cent cap for professional services of independent directors to a company, the same as that had been recommended by the panel.
However, this cap on remuneration does not count the sitting fees of independent directors.
These directors are paid in two ways - sitting fee and commission.
While the sitting fee is not a concern, it is the commission, which raises eyebrows.
The commission could range from 1 to 3 per cent of a company's net profit, depending on whether the company has a managing director or a full-time director.
The government recently promulgated an ordinance to amend the Companies Act to de-clog the National Company Law Tribunals.
The amendments are based on the recommendations of a panel, headed by the corporate affairs secretary Injeti Srinivas.
The ordinance did not contain the proposal of the committee to cap the independent directors' remuneration, but it repealed Section 197 of the Companies Act.
This section talks of managerial remuneration.
Atul Pandey, partner at Khaitan and Co, said, "In the recent ordinance, the government has repealed Section 197. Now, independent directors will be subject to stricter regulation."
The ministry said some urgent amendments are not there in the ordinance but are required for strengthening the corporate governance. It invited comments from stakeholders by November 20.
Abhimanyu Bhandari, advocate, Supreme Court, said there should not be any cap on independent directors' remuneration.
"This is against free market economics," he said.
He said the government should not regulate the remuneration, otherwise talents could not be drawn.
Rashi Dhir, senior partner, DMD Advocates, said while capping remuneration, it does not cover the entire aspect of the relationship between independent directors and promoters.
The regulation should also cover this relationship that goes beyond promoters' relatives.
The ministry also proposed making corporate social responsibility (CSR) norms more stringent.
The proposed amendments will ask companies to open a separate account for unspent CSR money.
Companies will also be instructed to spend that unspent money within three financial years.
While the current Act mandates a disqualified director from holding office for five years from the date of the National Company Law Tribunal (NCLT) order, the government plans to amend this provision to the effect that the disqualified director can approach the NCLT to act on the board before the end of five years.