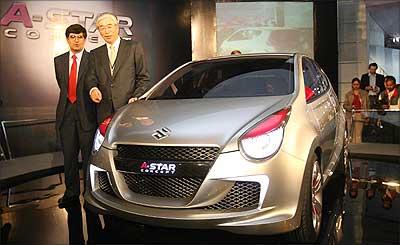 Maruti Suzuki's next offering, the A-Star, a premium hatchback car, will be the first vehicle to be exported from the company's car terminal at Mundra Port, which is expected to be operational by December 2008.  A joint venture between Maruti Suzuki and Mundra Port and Special Economic Zone (MPSEZ), the terminal is being set up with an investment of Rs 100 crore (Rs 1 billion).
"A-Star will be launched around October 2008. Initially, we plan to export 100,000 units to Europe from the Mundra Port," said Rajesh Uppal, chief general manager, (IT-sales and despatch division), Maruti Suzuki.
A-star, a small car from the Maruti stable, would feature a 1.0-litre petrol engine capable of lower emissions. The five-door model, showcased at the Auto Expo in Delhi, has attracted attention for its unusual front and rear looks, interiors and mood lighting. Maruti Suzuki's cumulative exports have crossed 500,000 units. The company exports to the Netherlands, Italy, UK, Germany, Hungary and across Europe.
Uppal was speaking at the launch of Maruti Suzuki's entry-level sedan Swift DZire, which is the seventh model to be launched by the company in the last three years. DZire petrol is available in the range of Rs 4.5 lakh (Rs 450,000) to Rs 5.91 lakh (Rs 591,000) (ex-showroom Ahmedabad) and between Rs 5.4 lakh (Rs 540,000) and Rs 6.71 lakh (Rs 671,000) for the diesel version.
"The Dzire is from the A3 entry-level segment, which has not posted growth unlike the A3 premium segment.  However, with the launch of this car, we are expecting to post a growth of 26 per cent," Uppal said, adding that the Gujarat market was significant for the company considering the 61 per cent market share Maruti Suzuki has in the state.
The soon-to-be functional car terminal at Mundra Port will have a pre-delivery inspection (PDI) centre, a car stockyard spread over 35 acres and a dedicated buffer area for cars to be parked just before they are loading on the pure car carrier (PCC) ships.
The port would also develop a cost-effective roll-on-roll-off (RORO) berth for speeding up the loading process and minimising the chance of damage to cars.
Image: Maruti Suzuki India Ltd managing director S Nakanishi (R) with the A-Star concept car. Photograph: Raveendran/AFP/Getty Images
Powered by