The Japanese word "Kizashi" means "something great is coming".  Maruti Suzuki (MSIL) must be hoping its newest luxury sedan of the same name lives up to that promise. Kizashi will be launched in India this month-end and was formally unveiled in Udaipur last week.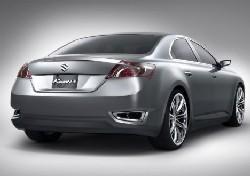 MSIL rules the small car market in the country – its flagship model, the Alto, was the highest selling small car globally in 2010. But there are many who question the viability and even success of the company's foray into the larger luxury segment.

For example, MSIL had earlier made little headway in the larger segment with Baleno and Grand Vitara. Even SX4 sales are nothing to write home about at 1800-2000 units.  Shashank Srivastava, chief general manager, marketing of MSIL, says the lack of a diesel variant has impacted sales of SX4 and the company is currently working towards launching a diesel version this year.

Powered by a 2.4 litre, four-cylinder petrol engine, Kizashi would come in both manual and automatic transmission variants.

This was to be expected since Kizashi's main competitors - the Toyota Camry and Honda Accord - are also equipped with the same. But MSIL has claimed that Kizashi engine will be more fuel-efficient than the competitor's offerings.

The car would be imported from Japan and is expected to be priced at Rs 18-20 lakh.

Company executives while declining to comment on the pricing points of the product say Kizashi would be positioned between the likes of Honda Civic and Toyota Corolla at the lower end and Honda Accord and Toyota Camry at the upper end of the luxury segment.

These cars are priced between Rs 12.21 lakh and Rs 26.17 lakh (ex-showroom, Delhi). This product segment represents just one per cent of the car market and has grown 53 per cent in the first three quarters of this financial year to 13,838 units.

This is higher than the sales in the whole of 2009-10 which totalled 13,128 units.

MSIL obviously thinks it has a winner in Kizashi. Mayank Pareek, managing executive officer (marketing and sales), MSIL explains: "Kizashi is intended to complete our product range. We wanted to provide a choice to the Maruti Suzuki consumer who wants to upgrade to the luxury segment. The vehicle has uniquely been positioned as a luxury sports sedan and the features we offer at the price we offer would definitely draw in buyers."

But will buyers listen? With Toyota and Honda being established names in the category, MSIL has a big challenge to rise above the clutter. So it is trying a new pitch. Srivastava says, "We are putting together a direct selling team dedicated to Kizashi. We would spread awareness through a 360 degree promotional campaign with emphasis on digital activities to cater to specific consumer groups."

"With Kizashi we want to understand consumer preferences in the luxury segment. The volumes are not large at present. But over the next five years, this category would expand significantly. We want to be future-ready", adds Pareek.

That sounds too tentative for a company which is trying desperately to break the jinx in the luxury sedan segment.

Many feel MSIL hasn't done enough to erase the public perception that the company is essentially a small car giant.

Abdul Majeed, leader, automotive practice, Pricewaterhouse Coopers (PWC), says "to be a key player in an intensely competitive environment, a manufacturer needs to have products across multiple segments. The success of the product would obviously depend on whether it offers value for money and how well the awareness about the product is communicated to consumers by the company."

Perhaps gauging the import of the message, Maruti has already initiated changes to alter the perception about the brand.

'Way of Life' has replaced 'Count on Us' as the tagline of the mother brand Maruti Suzuki.

Srivastava says, "We are focusing on individual brands which would go on to contribute towards the value of the umbrella brand. We used 'Way of Life' as a caption with A-Star in November 2008. Since then we are making changes in a phased manner and now we have extended the caption to the parent brand. Once the rebranding exercise for the group is complete we will wrap up with an overall campaign."

Alto, for instance, is championed by 'Let's Go' while A-Star edges one to 'Stop@Nothing. Eeco brings in 'Happiness Family Size'.

'Way of life', Maruti hopes, would open up products for consumers across segment, whether she a buyer of WagonR looking for safety and reliability while making her purchase decision or a customer for Kizashi opting for sophistication and finesse.

"Small cars would continue to drive sales for us even five years down the line but we would have made our mark across segments", clarifies Srivastava.