Reserve Bank Governor Raghuram Rajan expressed confidence in India's growth and said the country is on target to meet Jan inflation target of below 6%.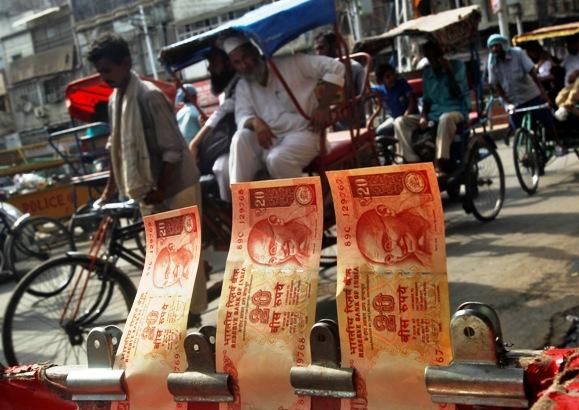 Reserve Bank Governor Raghuram Rajan has eased fears amid the stock market plunge and the rupee nearing its lowest-ever level, saying things will stabilise and people will look at stable emerging markets, including India.
The rupee, Rajan said, has been "relatively strong" in the emerging-market currency basket, but India is affected by the "same kind of jitters" hitting other world markets.
"My sense is that, at this point, if you are an emerging market, you focus on fundamentals, try and get inflation down, try and get your current account deficit down, keep your fiscal on target, do all the good things, and then people reward you," he said in Davos.
Investors "take the money off the table in a hurry when they are doing it everywhere, but then they come back".
"My sense is that after the initial volatility, things will stabilise, people will try and look for the good, stable emerging markets. India is one of them. Our growth is pretty good, all the other indicators seem to be going well," he told CNBC.
While the rupee on Wednesday hit 68.16 per dollar (the lowest since September 2013) before closing at 67.96 per dollar, stocks plunged around 650 points to crash below the 24,000-level on global growth worries before recovering and a sharp slide in oil prices before regaining some lost ground to settle 418 points lower.
On RBI's monetary policy stance next month, he said the rest of the world is facing a deflationary environment and "that will help India disinflate".
"It's helped us quite a bit so far, you're right, the lower price of oil will help," he said.
Rajan is confident that India is on target to meet January inflation target of below six per cent.
"Going forward, we have to disinflate a little more. So, at the meeting (on February 2), we will take all these factors into account and decide what the next step is, but broadly I would say we are on the right path," the central banker said.
Asked if there was room to manoeuvre, he said global investors want to be convinced that India will stay the course and will disinflate because they prefer lower inflation.
"So, we need to, at points of volatility, reassure them that this is indeed what we intend to do," he said. "At the same time, you are right that the disinflationary environment around the world does create room, so we have to play these things against each other."