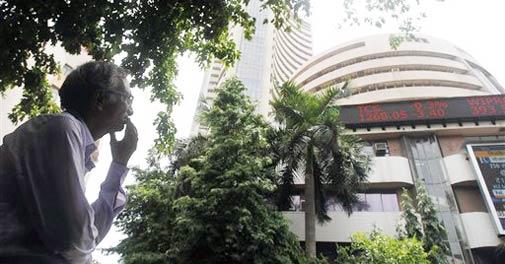 Total investor wealth on Wednesday plunged by Rs 2.89 lakh crore (Rs 2.89 trillion) to slip below the crucial Rs 100 lakh crore mark after a bloodbath in the stock market where the benchmark Sensex nosedived 723 points.
Tracking the extreme weak stock market sentiment, the total investor wealth of BSE-listed companies plummeted by Rs 2.89 lakh crore (Rs 2.89 trillion) to Rs 99.11 lakh crore (Rs 99.11 trillion).
The Sensex plunged 723 points -- its second biggest single day fall since Narendra Modi government took over -- on huge sell-off by FIIs on concerns over GST and other reforms.
The Sensex settled 722.77 points or 2.63 per cent lower at 26,717.37, the lowest in nearly 5 months. This is the biggest single day fall in last four months after 855 points plunge on January 6.
Besides, this is the second-biggest since Modi government took over on May 26, 2014.
"With 700 plus points fall, Sensex has lost nearly 2,400 points in the last 3 weeks primarily on account of the concerns pertaining to the FIIs taxation issue, nervousness surrounding the March quarter earnings season, which has failed to surprise on the upside as yet and the possibility of a second consecutive year of weak monsoon," said Hitesh Agrawal, Head of Research at Reliance Securities.
Across-the-board sell-off was triggered by concerns that reform process may get delayed as the key GST bill faces strong political opposition even as it got through Lok Sabha.
Slowdown in the services and manufacturing sectors as also persistent taxation worries added to the pressure.
Jignesh Chaudhary, Head of Research, Veracity Broking Services said, "Strong selling on algorithmic trading platforms and constant selling by foreign investors on ongoing worries about retrospective taxes forced indices to close at the lowest level in 2015."
Among the 30-Sensex components, only Bharti Airtel managed to end in positive territory, while 29 ended the day in losses led by BHEL, ICICI Bank and Larsen & Toubro.
From the S&P BSE indices, CG fell by 4.24 pct, followed by realty 4.04 per cent, power 3.67 per cent and Bankex 3.66 per cent.
On the BSE, 2,170 stocks declined, while 563 scrips advanced. 114 stocks remained unchanged.