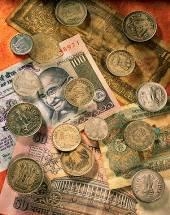 Indian markets on Wednesday gained the most this year on a global risk-on rally and anticipation that the Reserve Bank of India (RBI) might cut policy rates at its meet later this month.

Experts, however, cautioned market performance could hinge on foreign inflows, as liquidity with domestic investors is likely to remain tight on account of the financial year ending.

"We are not yet out of the woods. For the rally to sustain, we will need continuous follow-up buying," said Manish Sonthalia, vice-president and fund manager, Motilal Oswal Asset Management Company.

"A lot of mid-cap stocks have got liquidated in the recent crash. The liquidity in the market is tight and it will become even tighter post March 15. All these factors will weigh on the market," he added.

The S&P Sensex today rose 265 points, or 1.4 per cent, to 19,143.17, led by gains in beaten down metal stocks as investors thought recent losses were excessive.

Meanwhile, the 50-share Nifty closed at 5,784, up 85.75 points, or 1.5 per cent, the most since November 29, 2012.

The gains were in line with the global markets that gained sharply on the hope central banks globally will continue to power growth by loose monetary policy and other stimulus measures.

Market experts also said containing
the fiscal deficit and the current account deficit by the government will be the keys to give the RBI enough room to bring down interest rates.
"A recovery in global growth will drive stronger risk appetite.
However, further deterioration of current account deficit and continuation of domestic institutional investor selling remain key risks," said Abhay Laijawala, head of research at Deutsche Equities India.
Foreign investors have invested more than $8.4 billion in the Indian markets, while DIIs have sold shares worth over $1 billion so far this year.
In February, a global risk-off due to concerns around US sequestration and unfavourable elections results in Italy had seen the Indian markets correct by more than five per cent.
The major gainers today were the metal stocks, with Sterlite Industries and Hindalco, each gaining close to five per cent. The BSE Metal index had seen a 15 per cent fall last month.
India, which was one of the best-performing markets last year, is down 1.5 per cent so far this year.
According to analysts, the Indian market is trading at 13 to 14 times its 2013-14 forecast earnings, which is at a 15 per cent discount to its five-year average.
Credit Suisse said in a report today India has joined "the cheapest-4 club" (most inexpensive markets) in the Asia ex-Japan region (Southeast Asian countries, not including Japan).