Vistara'a launch, the steel plant at Kalinganagar and e-commerce venture are the ones most awaited for
Ratan Tata may have cut the chord with Tata Group to fulfill his dream of promoting e-commerce ventures, his successor Cyrus Mistry is ensuring that his legacy for growth is continued.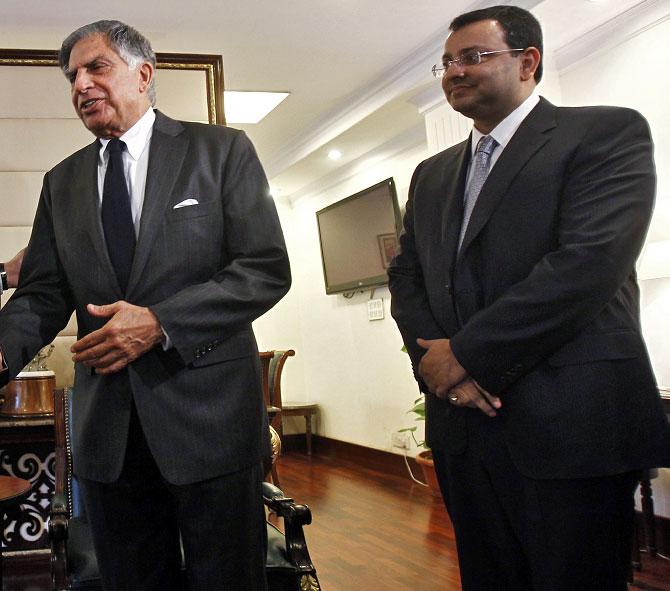 Some of the long cherished dreams of Tata Group will be finally taking off in 2015. This includes Vistara which will mark re-entry of the group into aviation as an operator, besides the commissioning of long awaited steel plant at Kalinganagar in Orissa and launch of its unnamed e-commerce venture which would be based on market place model.
"Tata Group has been at the forefront of innovations and it continues to expand as the new opportunities emerge," says Jacob Mathew, managing director at home growth investment banking firm Mape Advisory. TCS, the most valued company in the group, was born through one such initiative and it is one of the most valued companies in the group today.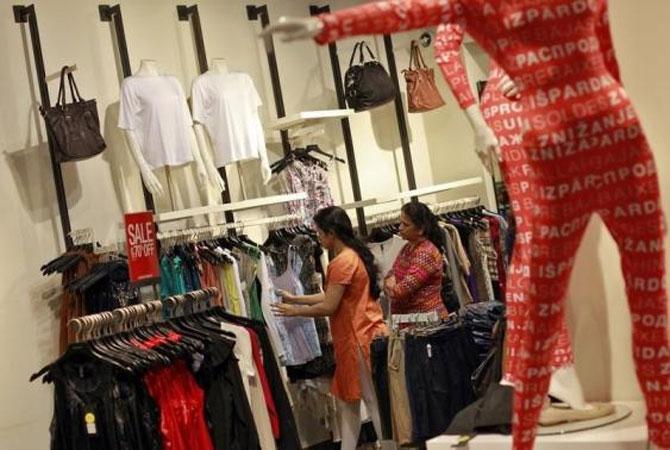 While the group has been assessing opportunity in the e-commerce space for some time it fast-tracked it by appointing Ashutosh Pandey, former chief operating officer at book store chain Landmark as the head. Sarvesh Dwivedi, who led the life style division of Ebay India was also roped in.
The group's existing e-commerce platforms for the retail ventures Croma and Landmark could be merged once the marketplace model e-commerce is launched. But Tata Group will face stiff competition from Flipkart, Amazon and Snapdeal who have already established their presence in the market.
"The group has demonstrated its focus for new horizon businesses be it retail or affordable housing," says Ajay Garg, managing director at investment banking firm Equirus Capital. "So it continues to invest as the new opportunities emerge, be it in aviation or e-commerce," he says.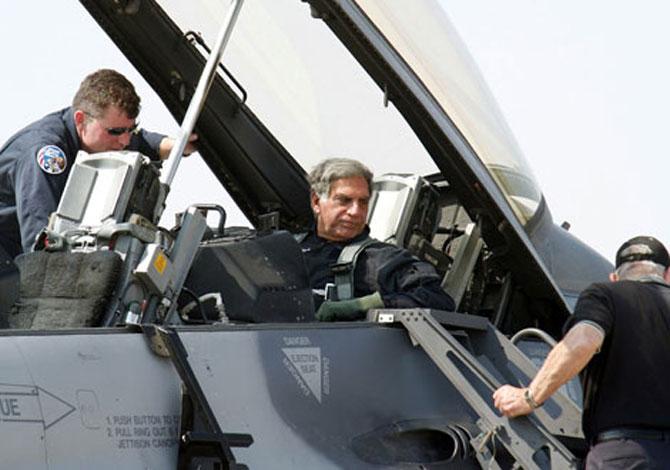 Image: Ratan Tata sits inside the cockpit of the U.S. F-16 aircraft during the 'Aero India 2007' air show. Photograph: Adnan Abidi/Reuters
The group was in fact the pioneer in Indian aviation, but its venture Air India was privatised in a nationalisation drive in 1953. Later Ratan Tata planned the venture with Singapore airline which should have started in 1996. But it was caught in red-tapism and Ratan Tata was often vocal about the constraints he faced.
His dream partially came true with the launch of Air Asia in which Tata Group has a 30% stake. And finally the group will make a comeback as an operator with launch of Vistara on 9 January. Tata Sons hold a 51% stake in the airline venture while the rest is held by Singapore Airlines.
"Tata's entry will help in corporatisation of India's airline sector," says Kapil Kaul, chief executive for South Asia at the Centre for Asia Pacific Aviation (Capa). "Subject to a stable policy and regulatory environment India can see more corporate investment in the sector," he says.
While these two businesses marks Tata Group's expansion, the 6 million tonne steel plant that Tata Steel is building at Kalinganagar with an investment of $7billion (Rs38,500 crore) is targetting consolidation. The first unit of 3 mt capacity of this plant will be commissioned in early 2015. This project has been also delayed since locals protested against land acquisition in 2006. With commissioning of this plant the company is targetting to tap increasing demand for its flat products from the automobile industry.