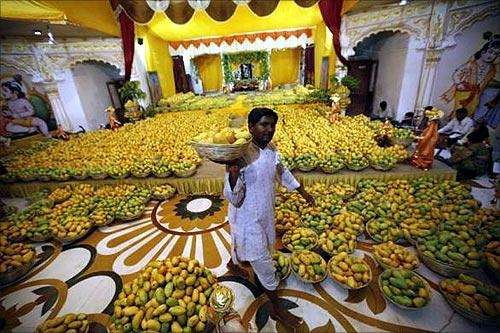 Talking tough, India on Friday threatened to drag the European Union to the World Trade Organization if the 28-nation bloc did not lift its ban on the import of Indian mangoes and vegetables.
"We do hope that the EU will see sense, considering the strength of the economic partnership between India and EU, and not precipitate the situation any further, which leads us to go to the WTO," Commerce and Industry Minister Anand Sharma said.
Sharma said he has already written a letter on the matter to EU Trade Commissioner Karel De Gucht. He said the government has invested in creating world-class laboratories through the Agricultural and Processed Food Products Export Development Authority (APEDA)
and their certification processes are acceptable to the EU, the US and other countries. The minister described the EU's move as an "arbitrary action without any consultation."
"It has no justification and I have said in my communication that it will definitely have a very negative fallout in respect of our economic relationship," Sharma said.
He said APEDA has the mandate of certification of agri-produce exports and that is acceptable to all countries. "That is why APEDA and the commerce ministry have taken up this matter," he said, expressing hope that the issue would be resolved.
Yesterday, when asked if India is considering dragging the EU to WTO's dispute settlement mechanism over the import curbs, Commerce Secretary Rajeev Kher said the issue should be addressed through consultation.
"I do not think that will be the right approach in this case. EU and India are strong bilateral trading partners. We should sort out differences through mutual conversation," Kher had said.
On Monday, the EU banned the import of Alphonso mangoes, the king of fruits, and four vegetables from India for the period from May 1 to December 2015 after authorities found consignments infested with fruit flies.
Imports have been restricted as 207 consignments of mangoes and some vegetables shipped from India in 2013 were found to be contaminated by pests.
The UK imports almost 160 lakh mangoes from India and the market for this fruit is worth almost 6 million pounds a year.
India, the world's largest mango exporter, sells about 65,000-70,000 tonnes of all varieties of the fruit overseas out of its total production of 15-16 lakh tonnes.
© Copyright 2021 PTI. All rights reserved. Republication or redistribution of PTI content, including by framing or similar means, is expressly prohibited without the prior written consent.