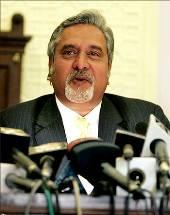 Vijay Mallya, the chairman of UB Group, was pushed further into a corner by Karnataka High Court on Tuesday even as it came down heavily on Mallya for not turning up at the Court as per its orders and said that he should appear on September 25, extending the summon.

The HC also offered a ray of hope to the hundreds of employees of UB-Group owned now-grounded Kingfisher Airlines, who have not been paid monthly salaries for over a year now.

There were two developments for these employees when the HC said their case can be heard along with the ongoing hearings of un-secured creditors who are fighting hard to get back their dues of close to Rs 600 crore (Rs 6 billion).

In a move that brought relief to the employees, the Court said their petition can be heard along with the other cases against the company.

The second important indication from the Court was that a part of the Rs 250 crore (Rs 2.5 billion) deposited by United Breweries Holdings Ltd as part of the case with creditors can be used to pay the salaries.

The High Court has allowed Mallya's counsel four weeks to submit an update on the revival plan for Kingfisher Airlines, failing which the company would have to draw up an alternate plan to pay Kingfisher employees their salaries.

"The workforce cannot wait until the company decides whether a revival of Kingfisher Airlines is possible or not.

"They cannot be kept starving because someone in the Ministry may take about 10 years to decide," Justice Ram Mohan Reddy said.

Lawyers representing Kingfisher said the company was in the advanced stage of a revival plan being worked out by the company and has submitted a document indicating the efforts in confidence to Justice S Abdul Nazeer of the Company Court, who has allowed KFA four weeks' time to make a revival plan and submit it before the bench.

Justice Reddy also said Kingfishers employees could file a fresh application to the court asking for their salaries amounting to about Rs 20 crore (Rs 200 million) a month to be disbursed from the Rs 250-crore (Rs 2.5 billion) deposit made by UBHL against five winding up court cases filed against UBHL, if they could prove that UBHL had a rights obligation toward Kingfisher employees according to the provisions of the Company Law.

This was suggested after the court dismissed an application filed by another set of Kingfisher employees pleading for a settlement of their salaries by UBHL, as lawyers representing UBHL argued that Kingfisher Airlines was no longer a subsidiary of UBHL and hence not their 'employer,'
to have any obligation to pay its employees.
Employees of Kingfisher Airlines, unpaid for 13 months now, are not only pleading for all or part of their salaries but also opposing the winding up of the company as the move would leave about 1,200 employees without jobs.
Many pilots have not applied for a renewal of their license and employees say their chances of moving to other airlines are hampered by the fact that training on a new aircraft would require an investment of upto Rs 20 lakh (Rs 2 million).
However, 21 employees, including those flying the Airbus fleet under Kingfisher Airlines have found employment with Air Asia, according to a source.
Lenders continue to haunt
The High Court also ordered the submission of a complete audited report on September 25, consisting of UBHL's United Spirits stake sale to Diageo as BNP Paribas has alleged some of the proceeds of the stake sale to Diageo has been taken out of the country.
The Court has also extended its summon to Mallya to appear in person by a week on the day of the hearing of the case.
The Karnataka High Court has added that UBHL will have to submit a complete audited statement containing the particulars of the stake sale, including a profit and loss statement showing details of the proceeds from the stake sale.
Lenders to Kingfisher Airlines, which include BNP Paribas, Rolls Royce and ATR, IAE, have filed an application asking that any revival plan made for KFA should be made with the consent and concurrence of bankers whose dues of over Rs 6,000 crore (Rs 60 billion) is yet to be settled by the defunct Airline.
The Defence Counsel maintained that company will talk to lenders and bankers at an appropriate time.
A million free seats on offer
AirAsia is offering one million free seats from Kuala Lumpur to destinations within Malaysia and international destinations to celebrate record of flying 200 million passengers till now.
The free seats can be booked online on the airline website from September 17-22 and are valid for travel for travel from January 7 -- August 5, 2014.
AirAsia is also offering promotional fares in conjunction with the free seats campaign with all taxes inclusive fares from as low as Rs 5,000 from Chennai to Kuala Lumpur, Rs 3,820 from Chennai to Bangkok, Rs 4,000 from Kochi/Tiruchirappalli to Kuala Lumpur, Rs 6000 from Bangalore to Kuala Lumpur Rs 5,000 from Kolkata to Kuala Lumpur, Rs 3,320 from Kolkata to Bangkok.