Award-winning lawyer, Claire Montgomery, the Queen's Counsel, is likely to fight the Indian government's attempt to extradite him to India.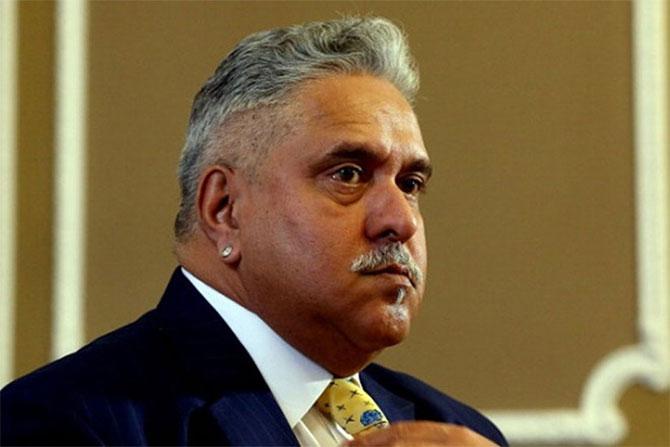 Beleaguered Indian businessman Vijay Mallya has consulted an award-winning lawyer, Claire Montgomery, the Queen's Counsel, to fight the Indian government's attempt to extradite him to India. Chambers & Partners, famous for ranking legal luminaries, described her as "the most formidable member of the bar". Montgomery is likely to defend Mallya at forthcoming hearings in British courts.
India, it was reliably learned from a high level source, will adopt a strategy of trying to convince the British judiciary that Mallya committed fraud, so as to get him back to India. This was finalised at discussions between officials of India's Central Bureau of Investigation (CBI) and the Enforcement Director of the Finance Ministry and Britain's Crown Prosecution Service lawyers in London.
In effect, what will be pursued is the CBI's charge in India that Mallya, whose Kingfisher Airlines collapsed owing thousands of crores to various Indian banks, colluded with officials of IDBI Bank to obtain a loan of Rs 900 crore. The facility was allegedly granted despite the company's "weak financial position and low credit rating".
The extradition process between Britain and non-European Union countries, notwithstanding a 1993 treaty on the subject between the United Kingdom and India, is long and tortuous. No absconder wanted by India under this agreement has involuntarily ever been repatriated by a British court, including people allegedly involved in acts of murder and terrorism.
Last year, Samirbhai Patel, said to be connected with the heinous 2002 Gujarat riots, returned of his own will. It is believed he did so thinking Bharatiya Janata Party (BJP) governments at both Gujarat and the Centre may take a lenient view of his wrongdoing. This was indirectly an indictment of the present dispensation's human rights credentials.
The British Home Office explained, a 2003 Act applies to non-EU territories with "international extradition arrangements" with Britain, such as India. Under this, the process began with the Indian High Commission in the UK requesting the British Foreign & Commonwealth Office to extradite Mallya.
This was then forwarded to the Home Office, which approved the requisition. Following this, a judge issued a warrant of arrest against Mallya, who was produced in court on April 18 before being granted conditional bail.
The next stage is a preliminary hearing on May 17. After this will take place, the actual extradition hearing sometime later in the year. Here, the judge, according to Home Office guidelines, "must be satisfied that the conduct amounts to an extradition offence (dual criminality), none of the bars to extradition apply, where applicable, there is prima facie evidence of guilt (in accusation cases), and whether extradition would breach the person's human rights".
Regardless of the ruling of the magistrates' court, either side can appeal to two levels at the High Court and finally to the Supreme Court.
The human rights aspect is where applications for extradition by India have generally floundered. In Britain, extradition is prohibited by statute if "the person could face the death penalty (unless the Secretary of State [for Home] gets adequate written assurance that the death penalty will not be imposed or, if imposed, will not be carried out".
In other words, India will have to extend such an assurance. This may not be a problem since Mallya has been accused of an economic offence, not killing anyone. But the hurdles don't end there.
India is not a signatory to the United Nations Convention against Torture. This is normally held against it. Last but not the least, Indian prison conditions are deemed to be unsatisfactory, including the lives of prominent detainees being threatened by other prisoners.
Over and above, there is the issue of a media trial that's been taking place in India, which in the eyes of a British judge may have prejudiced the case against the defendant.
Any exaggerated, false and malicious story put out by the central government and its agencies, whether on or off the record, and carried by news media could be cited as mal-intent.
Mallya has argued the Narendra Modi government is on a witch-hunt against him for political purposes. To counter this, the Union government has recently moved against other alleged defaulters to establish the liquor baron is not being solely victimised.
Besides, British law is less stringent about business failure as opposed to deliberate fraud. So, Mallya's lawyers could well contend Kingfisher Airlines becoming defunct was a genuine downfall in adverse market conditions.
Unconfirmed reports say, Mallya has offered to repay Rs 6,000 crore as a settlement — Rs 4,000 crore upfront and another Rs 2,000 crore if he wins a suit against an engine manufacturer.
If the petition is upheld, the Secretary of State for Home will be called upon to decide whether to ratify the order. Since there is said to be "a political will" on the part of Prime Minister Theresa May to please India, the political part is a foregone conclusion.
But, history suggests it is an uphill climb. The UK's Home Office confirmed its Second Permanent Secretary, Patsy Wilkinson, met senior officers of the Indian Home Ministry on Thursday.
"She held constructive discussions with the Government of India on a range of home affairs issues," a statement said. There was, however, no mention of the Mallya matter having come up.