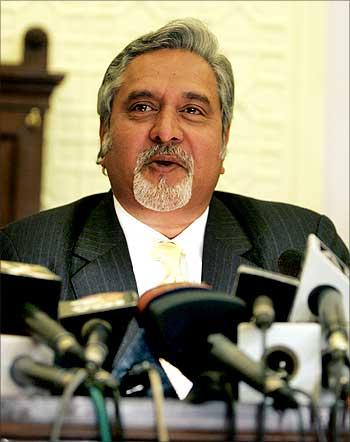 It is among corporate India's most protracted battles and there are definite signs that it's in the final lap.
The two decade-old legal battle between liquor barons Vijay Mallya and Kishore Chhabria is likely to come to an end as both parties are likely to file an application requesting withdrawal of several cases against each other tomorrow.
Mallya has been contending that he is the rightful owner of Officer's Choice whisky and not Chhabria, who currently owns the brand under his company Allied Blenders and Distillers (ABD).

The dispute had arisen nearly seven years ago after Mallya took over Shaw Wallace, owned by Kishore Chhabria's late brother Manu Chhabria. During that transaction, Kishore Chhabria had laid claim to Officer's Choice, which Mallya opposed.
It is understood that Mallya's flagship spirits company, United Spirits, will get a one-time fee of Rs 8 crore from ABD to settle the issue.

Officer's Choice whisky has been growing aggressively in the recent past and had during last year overtaken Mallya's Bagpiper as India's largest selling whisky brand at close to 16 million cases. Mallya had late last year moved the Calcutta High Court to restrain ABD from raising fresh resources until the ownership issue was settled.

The move to settle all legal disputes between the two is expected to pave the way for their respective strategic moves, going ahead.

While Chhabria is expected to raise Rs 200 crore through the private equity route for expanding ABD, Mallya will be moving a step closer to his strategic deal with global spirits major Diageo.

Both companies preferred not to comment on the planned settlement.
Since exiting Shaw Wallace, Chhabria has built the company's gross sales to more than Rs 1,800 crore by selling close to 17.6 million cases of spirits last fiscal, of which as much as 95 per cent came from ABD's flagship brand Officer's Choice.

According to ABD estimates, sales of the brand are expected to cross the 20-million mark by next year as it has been growing at a CAGR of around 30 per cent.
In view of the merger of Shaw Wallace & Company with United Spirits, an application was filed in the Calcutta High Court by United Spirits to substitute itself in place of Shaw Wallace in a suit filed in 1992 when Shaw Wallace was under the stewardship of the late Manu Chhabria.

The principal allegation in the suit was that in breach of his fiduciary duty Kishore Chhabria had caused the assets of Shaw Wallace and its subsidiaries to be dealt with in a manner prejudicial to their interests - in particular, the valuable ownership and control of BDA Ltd, manufacturer of Officer's Choice.