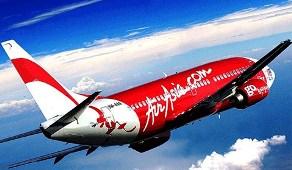 AirAsia founder and group CEO Anthony Francis Fernandes has been watching the Indian skies for a long time.

Born to a Goan father, with a childhood partially spent in Kolkata -- where he attended La Martiniere school, also Kingfisher chief Vijay Mallya's alma mater -- the Malaysia began his career with another aviation legend, Richard Branson, albeit in a very different business.

A greenhorn with a London School of Economics accountancy degree, Tony Fernandes cut his teeth as a financial controller with Branson's Virgin Communications London in 1987, before striking out with record company Warner Music two years later.

In 1997, Fernandes was named Malaysia's 'Recording Industry Person of the Year' for his work with Warner -- but merely five years later, the straight-talking chartered accountant was crowned American Express' 'Malaysia CEO of the Year 2003'.

"I always wanted to own an airline," Fernandes had told Business Standard in 2010.

"So, for a total of 27 cents, he bought AirAsia in 2001 and turned a carrier laden with $11 million in debt and only two aircrafts into Asia's biggest budget airline.

Within 18 months of taking over, Fernandes turned AirAsia around and began building a low-cost carrier model that has now ferried over 100 million passengers.

Today, it operates with a fleet of over a hundred aircrafts on 132 routes, covering 65 destinations in 18 countries. There are 266 more aircrafts waiting to be delivered by 2026.

En route, AirAsia dealt with the turbulence of the September 11 attacks, the SARS and bird flu outbreaks, the Boxing Day tsunami in 2004 and more
recently, the protracted global slowdown, but an aggressive pricing and marketing approach, coupled with an equally aggressive expansion regimen, have delivered the results.
But with the skies over Southeast Asia heating up, Fernandes has been attentively looking at India for some time, even though the airline has pulled out of Mumbai, Delhi and Hyderabad routes in the last two years.
In late 2011, as renewed stirrings of FDI in Indian aviation began, the Malaysian was seemingly tracking every move.
"I think capital needs to go into the airlines industry and regulation needs to change. There have been some sounds from the (Union) minister of commerce (Anand Sharma) on this," he had said then.
With those sounds having turned into regulatory change, Fernandes has now finally made his big move in India.
And alongside partnering with the Tata's, AirAsia's joint venture proposal for the subcontinent also partially uncovers Fernandes' other passion: sports.
Telestra Tradeplace's Arun Bhatia, the third partner in the deal, is the father of Amit Bhatia, co-owner and vice-chairman of London's Queens Park Rangers, the football club where Fernandes is chairman.
Then, there is, of course, the Caterham Formula One team (previously Team Lotus), which Fernandes leads as co-chairman, yet another circuit where he contends with Kingfisher's Mallya and the Force India F1 team.
But with the 'King of Good Times' fighting to keep his airline flying, this Malaysian baron has smartly driven his way into pole position.
Hurdles ahead
Air Asia-led JV could face regulatory challenges, said Kapil Kaul of Centre for Asia Pacific Aviation.
"It isn't clear if India will clear their licenses," he said.