The group also plans to commission 500 MW of solar power projects by the end of March 2016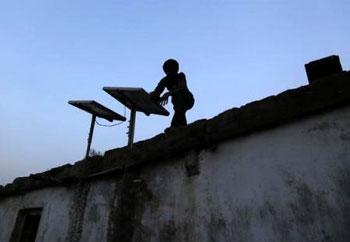 Indian conglomerate Mahindra Group plans to expand its renewable energy business and invest 45 billion rupees ($732.5 million) over the next three to four years, its chairman said, amid a government-led push to increase the use of clean energy.

The investment will mainly be financed by taking on 33 billion rupees in debt, with the rest funded through cash, Chairman and Managing Director Anand Mahindra told Reuters.

The group also plans to commission 500 megawatts (MW) of solar power projects by the end of March 2016 from 180 MW it expects to complete by end-March this year, he added.

"The (renewable energy) business is going to boom this year. It is a very attractive investment right now," Mahindra said on Sunday.

The renewable energy unit, which builds solar power projects and offers off-grid power solutions, was formed in 2011 and is currently one of the smaller businesses of the $17 billion autos-to-technology conglomerate.

Prime Minister Narendra Modi has ramped up his target for solar energy by 33 times to 100,000 megawatts (MW) by 2022 as he bets on renewables to help meet rising power demand and overcome the frequent outages that plague Asia's third largest economy.

Modi says India needs $200 billion - half of it from foreign companies - to meet its target and US President Barack Obama pledged on Sunday during a visit to India to support this ambitious goal through additional funding.

Companies such as US-based First Solar and SunEdison Inc already have sizeable businesses in India, while Canadian Solar, China's JA solar and JinkoSolar Holdings plan to invest in the country.

First Solar's biggest projects in India include a plant with local firm Kiran Energy Solar Power and the Mahindra Solar One plant.