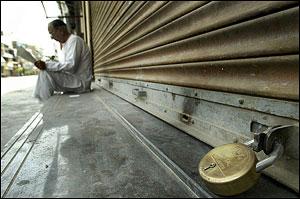 A two-day strike by wholesalers and retailers across Maharastra to protest against the imposition of Local Body Tax (LBT) began on Monday, bringing trading activity to a grinding halt.
"Trading activity has come to a standstill as all wholesalers and nearly 50 per cent of the retailers have joined the two-day strike (called after) Maharashtra government failed to resolve the pending LBT issue despite several assurances given earlier," Federation of Associations of Maharashtra (FAM) President Mohan Gurnani told PTI.
Traders have been left disappointed by the government's stance. After the indefinite strike stretching through April this year, the traders and government had struck a truce. Last month, Maharashtra Chief Minister Prithviraj Chavan, in the presence of NCP chief Sharad Pawar, had assured the trading community that a committee would be set up to examine the LBT issue.
But the one-month deadline for setting up the committee is already over, Gurnani said. He said that the future course of action would be determined after the monsoon session of the state Assembly, which began today.
Maharashtra government had already imposed LBT in lieu of Octroi from April 1 this year across the state and is set to implement the same from October 1 in Mumbai. LBT came into effect from April 1 in Kolhapur, Sholapur, Vasai-Virar Municipal areas.
Traders in these areas were forced to get registration numbers and served three-day notices to pay LBT, along with interest and late fee, on the monthly turnover from sales in the local area. Also, through a notice, traders were allegedly threatened with penal action, including two years' imprisonment, if they failed to pay the dues.
Traders across the state are opposing the present form of LBT which is totally at a variance with the draft submitted by FAM and other chambers of commerce. It has appealed to the state government to keep the implementation of LBT in abeyance till further discussions with the trading community aimed at arriving at a consensus.
FAM claims that since no other neighbouring state has a similar tax, LBT is hampering the competitiveness of local traders. In Nashik, all shops remained closed in response to the bandh call, Praful Sancheti, President of Foodgrain Traders organisation said. All petrol pump owners have also participated in the bandh.
Commercial activities also came to a halt in Jalgaon, Dhule and Nandurbar districts on LBT issue.