Mahindra & Mahindra said it will acquire 70 per cent stake in the ailing South Korean auto maker SsangYong Motor for $463 million (about Rs 2,105 crore) in order to become a global utility vehicle major.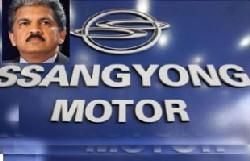 The companies have signed a definitive agreement to this effect and the acquisition process is expected to complete by March 2011, Mahindra & Mahindra (M&M) said in a statement.

As part of the agreement, M&M will acquire 70 per cent stake in SsangYong Motor Company (SYMC) and out of the total cost of acquisition of $463 million, $378 million will be in new stocks and $85 million in corporate bonds.

"The coming together of Mahindra and SsangYong will result in a competitive global UV player. Together with its financial capability, Mahindra offers competence in sourcing and marketing strategy while SsangYong has strong capabilities in technology," M&M president (Automotive and Farm Equipment Sectors) Pawan Goenka said.

He said there is also an opportunity to introduce a premium portfolio of SUVs in the Indian market, providing a new growth avenue for SsangYong and "further strengthen our dominant position in the UV segment".

In August this year, M&M had signed a pact to acquire SYMC after being chosen as the preferred bidder in a race, which had also included Kolkata-based PK Ruia group.

Commenting on the deal, receiver of SYMC, Yooil Lee said, "The securing of a solid partner who has both financial capability and is engaged in diverse markets will allow SsangYong to emerge as a global SUV player through the strengthening of R&D, investments in product development, better business competitiveness and global sales expansion."

According to industry analysts, M&M will benefit the most from this deal as it will have access to SYMC's global distribution network. "Apart from getting access to technology and products, M&M will get an established distribution channel in almost all major SUV markets. It will give the Indian firm a reputation of a global SUV player," Ernst & Young national leader (Auto Practice) Rakesh Batra said.

M&M will get one more manufacturing base in South Korea, besides a wider network of component sourcing, he added. SYMC has 138 dealers in its home country, while 1,300 dealers are located across 98 nations. It had sold 35,000 units in 2009. This is M&M's second major takeover deal this year after acquiring a majority stake in Bangalore-based Reva Electric Car Co.

In 2008, M&M had lost out to Tata Motors in the race to acquire Jaguar Land Rover.

Meanwhile, M&M scrip, however, fell marginally at the Bombay Stock Exchange and was trading at Rs 763 a piece during late afternoon.