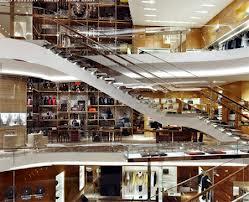 The luxury market in India seems to be beating the economic slowdown with double-digit growth.
But the fall in the year-on-year growth rate of luxury retail is expected to continue because of high rental costs and the absence of high-street infrastructure, according to experts.

The luxury retail market for apparel and accessories grew at about 15 per cent in 2012, compared to 20 per cent in 2010, registering a fall of 5 per cent in just two years.

India has most of the leading global luxury brands concentrated in Delhi, Mumbai and Bengaluru.

Luxury retail will be hampered by the absence of infrastructure in high streets that lend such places their look and feel, and makes up the overall shopping experience of a consumer of luxury brands, says Darshan Mehta, CEO, Reliance Brands.

He was addressing a conference hosted by Confederation of Indian Industries.

The cost of renting an outlet in Khan Market stands at about $265 (Rs 16,525) per sq-ft and about $160 (Rs 9,978) in Connaught place in New Delhi.

The highest rates stood at about $2,087 per square feet at Queen's Road, Central Honk Kong, according to Global Retail Highlights, 2013 by Colliers International.

Most outlets for the luxury brand are located in the lobbies of high profile hotels and this, in turn, limits the number of people and the growth prospects of the luxury market, says Gaurav Gupta, senior director, Deloitte India.

Industry experts also point out that luxury is still nascent and limiting the visibility of such brands dampens the prospects of creating a luxury consumption culture.

Industry experts also pointed out the concentration of luxury retail malls in Delhi, even as Mumbai craved for more.

Because of the high cost of land in Mumbai and the response from Delhi, most luxury retail players are interested to expand in the capital, says an industry expert.

Delhi's strategic location invites crowds from Haryana, Punjab and other neighbouring states.

The demand pattern in retail luxury products, especially, in apparels and accessories, tells that there is little incentive for expansion in tier II cities.

"About 60 per cent of the demand comes from Mumbai and Delhi and a little over 10 per cent from Bengaluru.

"In such a scenario, there is not a lot of scope for expansion in smaller cities," says Anuj Puri, chairman and country head, Jones Lang LaSalle Meghraj, a commercial real estate consultant.

To capitalise on the limited but potential market, leading brands are looking forward to 'Indianise' their products and expand their reach.

Recently, Canali had launched ethnic band gala or Jodhpuri jackets that were received well. Hermes, earlier, had showcased a collection of sarees.

India has about 470 malls. The leading luxury malls are DLF Emporio in Delhi and Palladium in Mumbai.

According to industry reports, the luxury industry in India is valued at $8.65 billion (Rs 53,900 crore) for 2013.