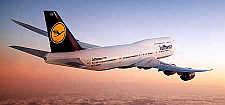 German airline Lufthansa said it is considering legal action after trade union Verdi called on thousands of workers to go on strike on Monday to increase pressure on management in pay negotiations.

Lufthansa said the planned action, which would see workers walk off their jobs for a full day at several airports - including Europe's third largest at Frankfurt - goes far beyond a regular "warning strike" and would cost the airline tens of millions of euros.

Warning strikes are a common tool in German pay disputes and are usually a shorter form of action before an all-out strike is declared.

Lufthansa has used the courts before to prevent strikes going ahead in previous disputes, such as those with pilots and air traffic controllers.

"It's completely out of proportion," a Lufthansa spokesman said. "Especially given that four further dates for pay talks had already been agreed upon."

Staff represented by Verdi have already held a one-day strike on March 21, forcing Lufthansa to cancel nearly 40 per cent of its flights for the day.

Verdi, representing about 33,000 employees, has described a pay offer put forward by Lufthansa management on Wednesday as "scandalous" and said that it would represent a drop in pay in real terms over the next 12
months.
Lufthansa's offer was to raise salaries by 1.2 per cent from October this year and a further 0.5 per cent a year later, in a deal that would run for 29 months and would not contain job guarantees.
Like European peers Air France-KLM and SAS , Lufthansa is trying to keep down staff costs as it battles competition from low-cost carriers and fast-growing rivals from the Gulf.
Verdi is demanding a 5.2 per cent pay rise for cabin crew and ground staff at Lufthansa Cargo, Lufthansa Technik, Lufthansa Systems, catering unit LSG Sky Chefs and ground crews. It also wants a commitment by Lufthansa to safeguard jobs.
Further talks have been arranged for April 29-30 and June 2-3.
Friday's call for industrial action was for full-day strikes at Frankfurt, Munich, Hamburg, Stuttgart, Hanover, Duesseldorf, Cologne and Norderstedt.
Lufthansa earlier said it was too early to predict the exact impact on Monday's flight schedule but said that there would be delays and cancellations.
"We will, of course, put the necessary measures into place," a spokesman said just after the strike was announced.