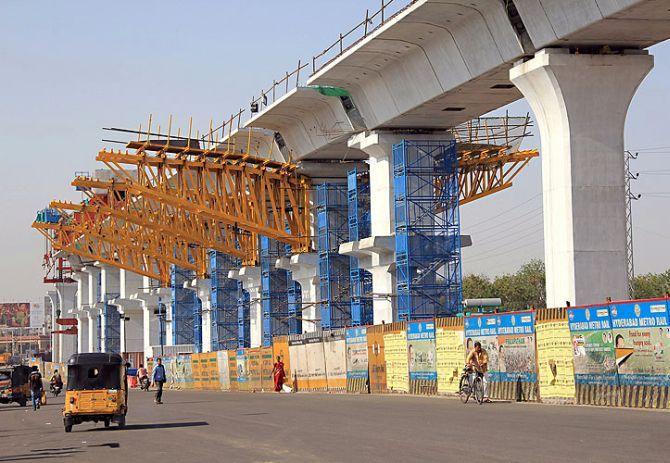 Policy changes and a provision for guaranteed returns must be put in place to boost infrastructure development, which requires large-scale funding, said Larsen & Toubro (L&T) Chairman A M Naik.
Companies will invest only if there is an assurance of returns, he said in an interaction with reporters here on Friday.
Over the past few years, L&T has been looking abroad for orders. Naik said the company would consolidate its international business by replicating its domestic structure and systems and that it is hopeful of domestic projects coming on track with the new government approving coal mines and taking policy decisions to support investment.
International orders contributed to 33 per cent of the company's total order inflows last year.
While the prime focus of L&T's abroad business is West Asia, the international outreach also extends to south-east Asia, Commonwealth of Independent States and Africa.
Naik said the company would also strengthen its multi cultural leadership to boost its foreign business.
"We will see some new changes only after next April as the new government is currently focusing on clearing the low-hanging fruits.
These are those projects, which had been pending for quite some time now and we expect them to come up for bidding soon," Naik told reporters on the sidelines of the company's 69th annual general meeting.
Among the projects the company is eyeing are those of Dedicated Freight Corridor Corporation of India, airport projects in India and West Asia, water treatment plants, and nuclear power plants of 700-Mw in India.
L&T, which has executed the Mumbai airport modernisaton, is also involved in construction and development of airports in Kerala, Chandigarh and Oman.
Naik, however, expressed concern over the connectivity to the Navi Mumbai airport site, adding there was no proper infrastructure in place that could link the airport to any place in Mumbai in 30 minutes. He said while the firm has no fund-raising plans at the moment, it would refinance a portion of its loan book to cut down on interest. The company has a debt of Rs 11,500 crore (Rs 115 billion).
L&T had also sought shareholders' approval to raise $600 million through a qualified institutional placement.
L&T's chief financial officer R Shankar Raman said the firm was seeking certain clarifications from the Securities and Exchange Board of India on infrastructure investment trusts and added that the current norms were not investor friendly.