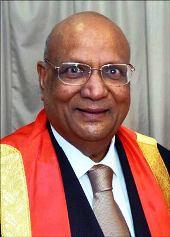 NRI industrialist Lord Swraj Paul's portrait will be featured to represent India at a major public art project showcasing Britain's cultural diversity coinciding with the 2012 London Olympics.

Under the project, The World in London, the Photographers' Gallery commissioned 204 photographic portraits of Londoners, each originating from one of the nations competing at the London Olympics and Paralympic games from Friday.

Lord Paul, Chancellor of two British Universities -- Wolverhampton and Westminster - was chosen to represent India and his portrait was taken by Mary McCartney, daughter of Sir Paul McCartney, a famous photographer in her own right.

An exhibition of the Portraits will be shown in Oxford Street, Central London, for four days from tomorrow as well as at Victoria Park in East London.

In December 2012, the full set of The World in London portraits will be donated to the Museum of London to be part of its permanent collection.

The World in London explores portraiture and cultural diversity using photography, one of the most accessible and democratic artistic mediums of our times.

The project celebrates London as a place where individuals from all walks of life and all parts of the world live side by side, each of them contributing to make London the unique city it is.

Brett Rogers, Director of The Photographers' Gallery said: "As London's premier institution for photography, we are proud to have initiated a project that engages with the cultural diversity of London at the same time as celebrating photography as one of the most powerful visual mediums of the 21st century."

"Commissioning such a variety of photographers has offered us an unrivalled opportunity to highlight the creative potential of the portrait genre.
Image: Swraj Paul