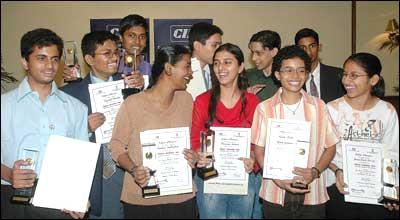 Welcome to the world of low calorie biscuits made of banana peel, herbal pesticides for storage of grains, herbal formulation for controlling growth of larva, optically controlled wheel chair, and advanced audio-video coding of data.
These innovations could be the face of 21st century India and are the brainchild of 10 young Indian innovators, who have just returned from the International Exhibition of Young Inventors, organised by the Japanese Institute of Invention & Innovation (JIII) from August 27-30, 2004 in Tokyo.
As part of a joint initiative of the Confederation of Indian Industry and the Department of Science & Technology, to promote inventions and innovations among students and youths and instil the innovation era, CII and DST organised the Indian participation at the Tokyo exhibition.
At a press interaction to felicitate the young innovators, organised by the CII in Delhi on Wednesday, the 10 young minds shared their experiences in Tokyo and apprised that their innovations were widely appreciated all across the board.
Speaking to the children and the press, Minister for Science & Technology Kapil Sibal said that the task of the State was to encourage the children of today and tomorrow to nurture the genius and give them the confidence to grow.
Sibal stressed on practical application of science and added that private-public partnership, which had taken off in the country, would be the key to nurture the talents and implement the innovations for the ultimate benefit of end-users.
The minister reiterated that the young population of the country would lead India in the 21st century. He commented that during the next 20 years, the working population of the nation would touch 400 million, as 50 per cent of India's population was under the age 25.
He said that the large population was not a bane but a boon, and all efforts should be made to harness the budding population. The minister assured that the government was firmly committed to supporting the young and fresh talents, and also called upon the industry to provide an enabling environment for young innovators.
N Srinivasan, Director General, CII, while congratulating the young innovators, said that CII is committed to integrating young kids of India with the rest of the world, and added that joint initiative with DST was the first step towards that endeavour.
Srinivasan said that CII was committed to creating an era of innovation in India.
Aunj Sinha, adviser, DST, said that the initiative was a win-win situation for all, particularly for the industry. He said that efforts should be made to see that the innovations made by young innovators are reached to the end consumers.
The ten projects that were on display at the Tokyo exhibition were:
The ten young innovators at a press conference in New Delhi on Wednesday. Photo: Sondeep Shankar/ Saab Press