The proposal will become reality only when the state government amends the Shops and Establishments Act and the Police Act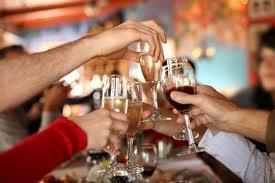 The Maharashtra government hopes to collect Rs 3,500 crore (Rs 35 billion) as additional taxes annually if it goes ahead with the proposal to amend the law to allow bars, pubs and restaurants to remain open all night.
Officials at the state government and BrihanMumbai Municipal Corporation say it is a bonanza time.
With more footfalls at malls, hotels, restaurants, pubs, there will be additional tax collection of at least Rs 3,500 crore (Rs 35 billion) annually.
Officials say the present tax revenue of the state is Rs 120,000 crore (Rs 1,200 billion); this city contributes a little more than half.
Allowing floor performances, they say, will have a multiplier effect on the collection of entertainment duty, value added tax, luxury tax, service tax and excise.
Of the total entertainment duty, half now comes comes from Mumbai and neighbouring Thane.
That number will go up strongly.
The government charges Rs 200,000 a month for music performance at one location in five-star and four-star hotels, Rs 100,000 for pubs and Rs 50,000 for dance bars.
Pubs with a DJ pay Rs 100,000 a month.
The proposal will become reality only when the state government amends the Shops and Establishments Act and the Police Act.
That should not be a big problem.
Mumbai's police commissioner has also said he has no objection.
Bharat Malkani, president, Hotel & Restaurant Association of Western India, says it will result in a number of visitors extending their stay by a day or two, while transit travellers could be spending more time and money in the city.
Satish Soni, joint managing director, Maharashtra Tourism Development Corporation, says the liberation of night life will boost the economy of Mumbai and tourism in particular.
"About three million foreign tourists and 40 million domestic tourists visit Mumbai and later go to other destinations.
"The flow will increase and it will also have a ripple effect on the hospitality and travel sectors," he adds.
Shubhranshu Pani, board member of Shopping Centres Association of India, believes customers will find it more convenient to eat out.
"If we take the case of Bengaluru, extending the business hours of restaurants from 11.30 pm to 1.30 am resulted in an increase of 25 per cent in the foods & beverages business.
"We believe the same can happen in Mumbai.
"Extending potential shopping time would increase the prime shopping hours and this would benefit shoppers, retailers and mall developers," he says.
Taxi operators are also thrilled.
TABcab managing director Jagdish Purohit says his company is awaiting the government's formal nod.
"We might launch a marketing drive to attract commuters opting for night life," he says, adding the opening of night life will further improve security and safety, as criminal elements will stay away.
Other operators such as Meru and TaxiForSure predict a sharp increase in their turnover, as traffic will increase across the city and in the business areas such as Nariman Point, Kala Ghoda and Andheri.
At present, bars and pubs, including those in two- and three-star hotels, are allowed to remain open till 1.30 am, while restaurants have to shut by 12.30 am.
Only in four-star and five-star hotels are cafes serving liquor allowed till 3.30 am.