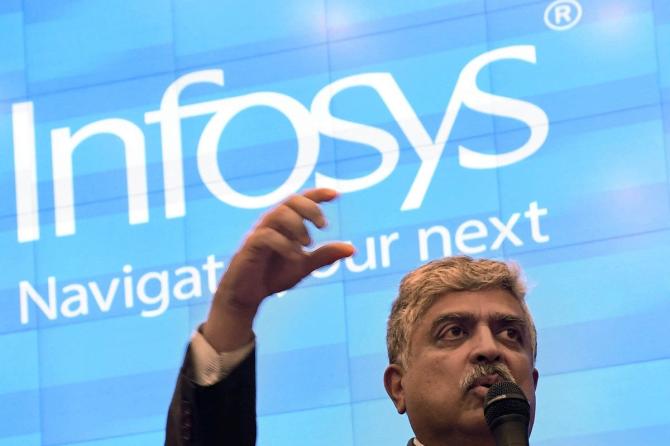 Infosys put up a resilient performance in the seasonally weak December quarter of 2022-23 financial year (Q3FY23), beating expectations on both revenue and profit fronts.
As against analysts' consensus revenue estimate of Rs 37,838 crore and profit estimate of Rs 6,470 crore, the company posted revenue and profit of Rs 38,318 crore and Rs 6,586 crore, respectively, during the quarter.
On the margin front, it posted a flat operating margin of 21.5 per cent compared with the last quarter, as lower subcontracting costs were offset by higher pass-through costs and overheads.
As against expectations, Infosys raised its FY23 growth guidance to 16-16.5 per cent, from 15-16 per cent earlier, and retained the margin guidance at 21-22 per cent.
Another positive surprise, analysts said, was the strong total contract value (TCV) of $3.3 billion, which was the highest in 8 quarters, despite the global headwinds and slowdown in several verticals.
"The uncertain macroeconomic environment could restrict material outperformance in near to medium term but the long-term outlook for Infosys remains intact," said Sanjeev Hota, head of research, Sharekhan by BNP Paribas.
This will be led by healthy large deal momentum amid opportunities arising from vendor consolidation, which provide firm demand visibility, experts state.
"Strong vendor consolidation deals and cost optimisation projects continue to help Infosys gain market share.
"Last 12 month-large deal TCV of $10 bn and growth guidance upgrade should adequately cushion the near-term headwinds from weak macros and assuage growth concerns," said analysts at Motilal Oswal.
Those at IDBI Capital expect Infosys to be a key beneficiary of vendor consolidation opportunities worth around $115 billion over the next 2.5 years.
"The firm deal pipeline makes us believe that the company will surpass its FY23 guidance with a 10.6 per cent CAGR (compound annual growth rate) revenue growth over FY22-25," they said, while upgrading the stock to 'buy'.
Besides, brokerages expect the company's FY23 margin to be closer to the lower end of the guidance, which remains achievable.
Karan Uppal, research analyst at PhillipCapital, projects margin expansion of 100 basis points in FY24, led by levers like utilisation, pyramid optimisation, lower sub-contracting cost and pricing.
Need for caution
The company's employee addition in Q3 slowed down by a massive 84 per cent, to 1,627 over the preceding quarter, which raises concerns of likely growth moderation.
'Despite healthy deal wins, Infosys' upgraded growth guidance implies a soft Q4 with sequential growth of -1.3 per cent to 0.4 per cent in constant currency. Slowed net hiring, which was the lowest in 9 quarters, also reflects rising caution,' said Akshat Agarwal and Ankur Pant of Jefferies in a note.
Moreover, Q3 deal wins came strong but with a higher renewal component as only 36 per cent of the total deals were net new deals.
"Net new TCV, at $1.2 bn, barely grew year-on-year and was down 19.8 per cent on a quarterly basis. Hence, TCV wins are trending up, but this does not provide enough visibility for the firm's growth leadership," said analysts at Kotak Instituitonal Equities.