To reduce its mounting debt, DLF, the country's biggest real estate company, is set to sign a deal with Mumbai-based Lodha Developers for selling one of its showcase non-core assets — the 17-acre National Textile Corporation (NTC) land in Mumbai.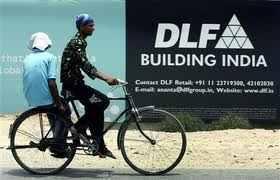 The deal is estimated at Rs 2,500-2,700 crore (Rs 25027 billion). Lodha Developers has already paid Rs 500 crore (Rs 5 billion) in advance. It would pay the remaining sum after signing the memorandum of understanding with DLF, a source privy to the development told Business Standard.

When contacted, a DLF spokesperson said, "We do not comment on market speculation." Lodha Group Managing Director Abhisheck Lodha did not respond to calls or text messages.

A DLF management team, which includes Managing Director T C Goyal and Chief Financial Officer Ashok Tyagi, is believed to be in Mumbai for the deal.

Market sources said though the deal was structured like a joint venture, Lodha Developers would own the Mumbai land. While sources close to the company said there would be a one-time payment for the deal, it is possible the payment would be made in installments over six-eight
months.
In 2005, DLF had bought the land from NTC for about Rs 700 crore (Rs 7 billion). It had planned to develop a mall, offices and residential flats on the plot.
Last year, however, the land was put on the block as part of the developer's non-core assets. DLF wants to sell the NTC land, as it doesn't think developing a project in Mumbai is feasible, since the company is based in Gurgaon.
DLF plans to cut its debt of Rs 22,725 crore [Rs 227.25 billion] (as on March 31) by Rs 6,000-7,000 crore (Rs 60- Rs 70 billion) by March 2013.
The company has identified Aman Hotels and Resorts (excluding the Delhi property), its wind energy business and the Mumbai NTC land as its non-core assets.
In an analysts' presentation after its results for the quarter ended March were announced, DLF said after selling the three non-core assets by September, it would plan another round of asset sales.
In the quarter ended June, DLF offloaded its entire stake in Adone Hotels and Hospitality for Rs 567 crore (Rs 5.67 billion) to Kolkata-based Avani Projects and Square Four Housing & Infrastructure.